Although I had previously traveled extensively in South Africa, this would be my first travel adventure to Western Cape. The focal point of my trip would exploring be Cape Town and the surrounding Western Cape destinations nearby.
My travels through the Western Cape, South Africa would be a mix of surfing, hiking, cultural exploration and some destination travel. Therefore, my list of the best Western Cape destinations will be a combination of these attractions.
Please join me in my write up below for some great photos and travel information about the most amazing, fun things to do in Western Cape.
Western Cape Climate Considerations
In the southern hemisphere the seasons are inverse compared to up north. As a result, first time visitors should be prepared for the Western Cape climate. You need not expect any snow storms or hurricanes, but bear in mind that in the southern hemisphere, winter is summer and summer is winter.
Ultimately, seasonal fluctuations in the Western Cape climate can effect some activities. For example, sun bathers best wait until summer months. But to be sure, the water is freezing year round and all surfers need a sufficient full body wet suit.
My visit to Western Cape was centered around surfing. Therefore, I was coming during the fall/winter season when the waves were the best and biggest. Indeed, fall season would be an ideal time for a combination of surfing mixed with the best Western Cape destinations.
#1 Table Mountain – Best Western Cape Destinations
The Western Cape coastline is characterized by craggy mountains and beautiful beaches. As a result, it is one of the most scenic destinations in the world.
However, there is a notable exception to the rough craggy mountain scenery – Table Mountain – which has a flat top. Table Mountain is a prominent feature of the Cape Town skyline and the most rewarding of the Western Cape destinations.
How do you get to the top of Table mountain? There is an easy way and a hard way to get to the top. I suggest climbing to the top of Table Mountain using the trail system (the hard way).
Hiking up Table Mountain is an exhilarating experience that will surely get your heart beating fast. Not only because of the climb but also because of the awe inspiring views of Cape Town and the surrounding area.
However, don't stress if you are not up for the climb because there is a cable car that can take visitors to the top (when it is operable). Although I noticed it was not running when I was there, possibly because of high winds.
I was staying below the mountain in Camps Bay and I had hiked all the way from my condo. This is a bit extreme, so I suggest driving to the Table Mountain parking lot and hiking in from there. Nonetheless, Table Mountain is the most famous and certainly the undisputed #1 Western Cape destination.
On the top you will be rewarded with sweeping panoramic views of Cape Town and the surrounding Western Cape. Fortunately, once you arrive on top it is flat and hikers will enjoy the boardwalk and the walking trails.
Most essentially, there is a pathway that walks around the perimeter of the summit. So you can enjoy the views and catch your breath.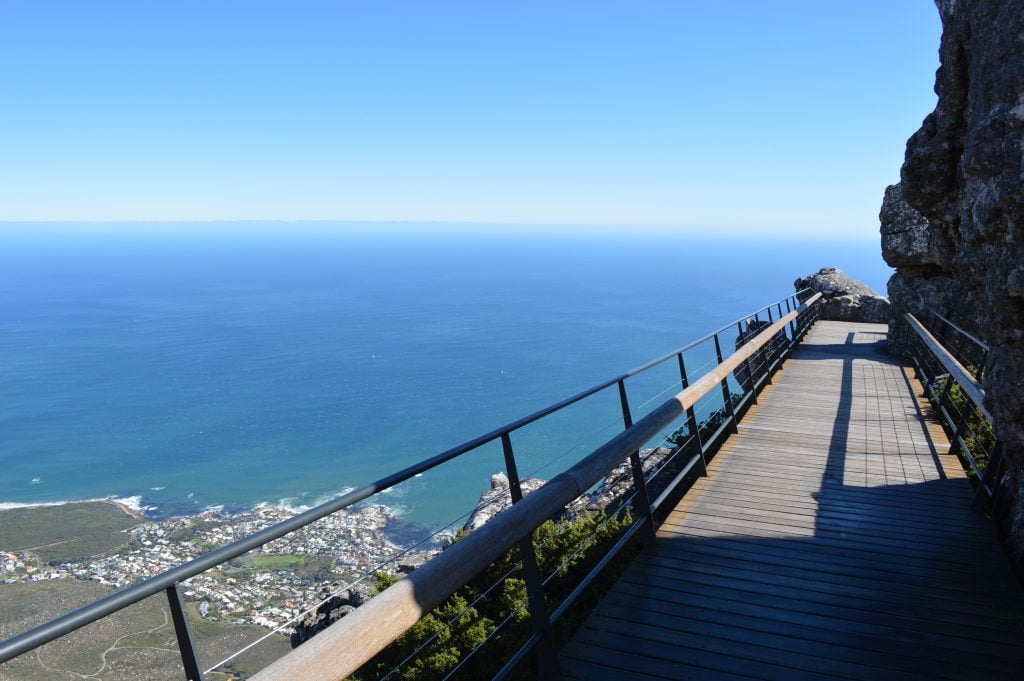 #2 Kommetjie – Best Western Cape Destinations
Kommetjie, South Africa (pronounced Ko-me-ky) is an idyllic beach town about 30 kilometers south of Cape Town. There are several reasons that Kommetjie is one of the top Western Cape destinations.
First, the drive down the coastal road from Cape Town to Kommetjie is the most scenic 30 kilometers you will ever experience.

Second, there are several great local beaches along the way for long walks and sunbathing.

Third, after climbing Table Mountain you will need a day of rest.

Last but not least, there is world class surfing here – if you are so inclined.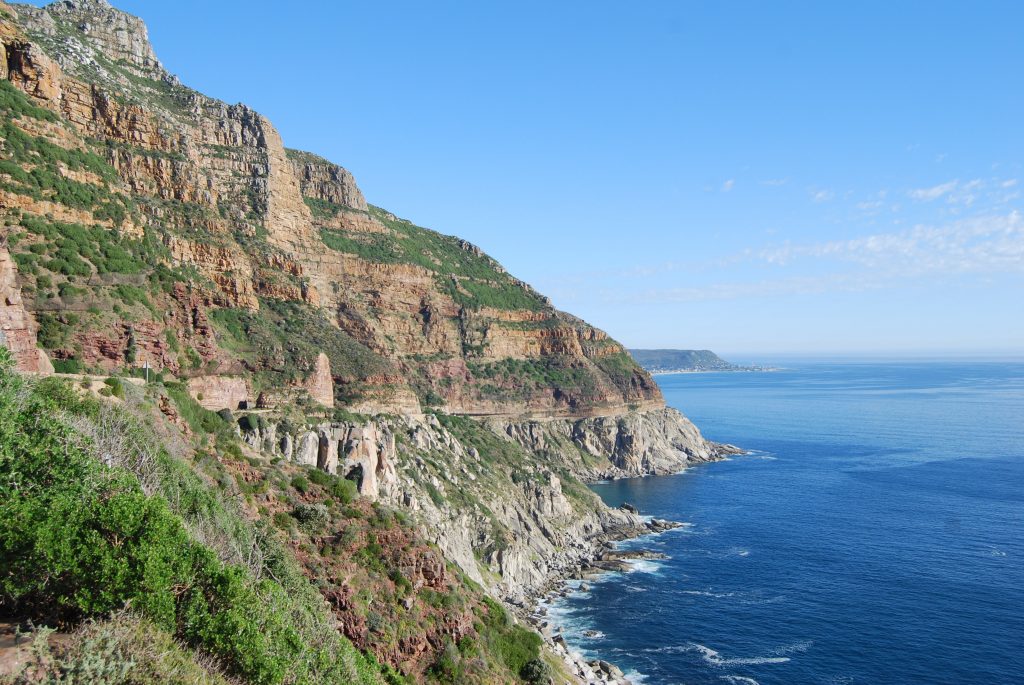 I enjoyed Kommetjie so much I rented a beach house there and stayed for 6 weeks after I left Camps Bay! There are also hotels in Western Cape that are available for shorter stays.
However, in order to surf in Kommetjie you will need to get along with the locals, but with a little diplomacy things should be fine. Good luck!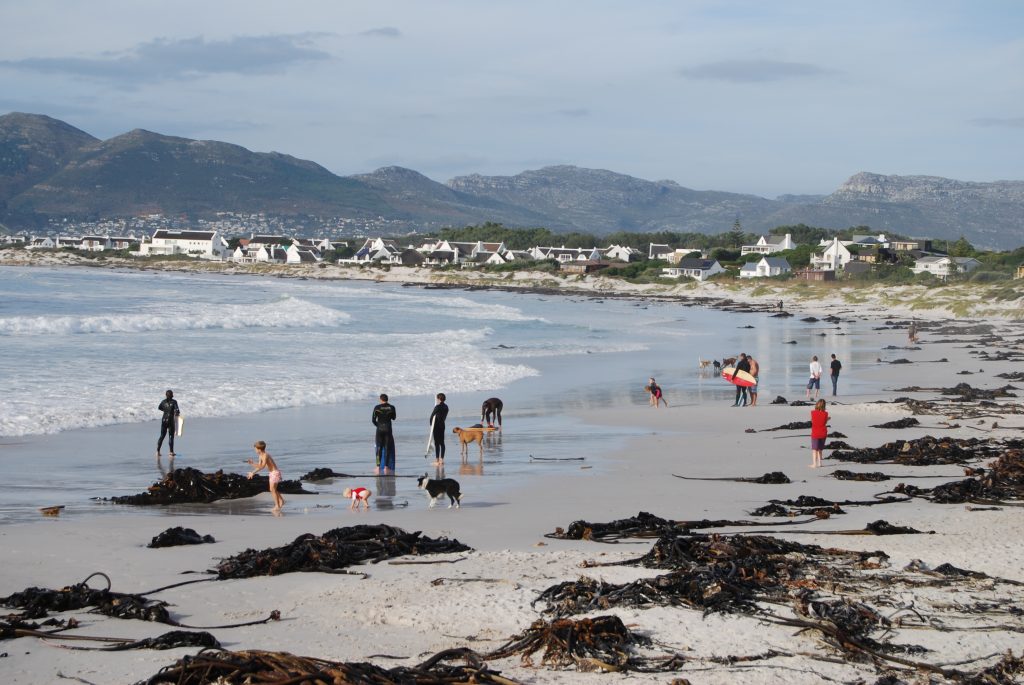 #3 Cape of Good Hope – Best Western Cape Destinations
The drive to the Cape of Good Hope is about 60 kilometers south of Kommetjie. However, the Cape of Good Hope is not the southern most point of Africa!
Geographically speaking, Cape Agulhas is the southern most point of Africa (don't worry we will get there soon).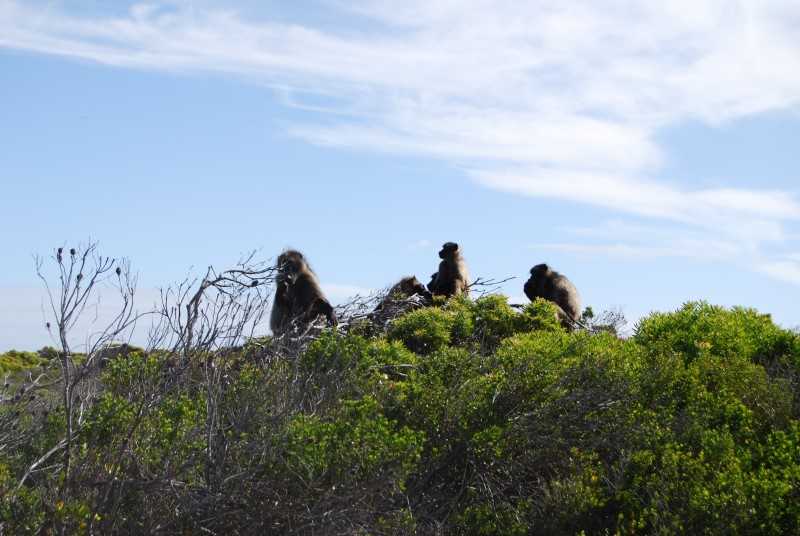 This small detail notwithstanding, Cape of Good Hope is the more scenic of the two capes because it is perched on dramatic seaside cliffs. Plus, it is closer to Cape Town than Cape Agulhas.
Most essentially, there are lots of hiking trails around the Cape of Good Hope to enjoy and also a bit of wildlife.
The region between the two capes is the point of confluence between the Benguela current and the Agulhas current.
In contrast, the Benguela current is a cold water current flowing north up the southwest coast of Africa. However, Agulhas current is warm and it flows south along Africa's eastern coastline.
#4 Cape Agulhas – Best Western Cape Destinations
If your goal is to reach the southern most tip of Africa, don't forget to visit Cape Agulhas! It would be a great shame go home with a guilty conscious because you cut corners.
The drive to Cape Agulhas takes you additional 150 kilometers south of Cape of Good Hope. You can enjoy the endless sweeping rural countryside of Western Cape, South Africa plus you will have the nostalgic honor of having set foot at the southern most tip of Africa.
Cape Agulhas is certainly one of the top Western Cape destinations for geography enthusiasts!

#5 Victoria & Alfred Waterfront
Although Victoria and Alfred Waterfront is very popular in Cape Town, it is #5 on my top Western Cape destinations list. Indeed, Cape Town is a fair city and the V&A Waterfront is its main attraction.
There is a big shopping mall, lots of cafes and things like this. However, shopping malls and cafes are pretty much the same anywhere. Therefore, Victoria and Alfred Waterfront is the most ascetic of the Western Cape destinations, nothing special here.
Although if you enjoy ecotourism then you can book a cage dive with great white sharks and also take a helicopter tour of Western Cape. The ticket offices are located at the waterfront.
However, cage diving has become a controversial Western Cape tourism attraction. As a surfer and a responsible global citizen I do not think feeding great white sharks is good entertainment. Additionally, I think the helicopter tours were way over priced and I decided to pass.
#6 Diamond Museum – Western Cape Destinations
Most essentially, diamonds and precious minerals are a very large part of the South African economy. Indeed, South Africa is the world's top source for diamonds. The Cape Town Diamond Museum can be found near V&A Waterfront and it is one of the most novel Western Cape destinations.
Plus, entry is free, courtesy of Shimansky Jewelers. Shimansky is the owner of the museum and they have a chain of jewelry stores specializing in diamonds. As a result, you will learn about the origin of diamonds in South Africa and see many samples in their showroom.
At the museum you will learn some fascinating details. For instance, did you know De Beers was a Boer farmer who was more interested in farming than diamonds? Have you ever seen black diamond?
The diamond museum will definitely appeal to anyone seeking Western Cape destinations with educational attributes.
#7 Robben Island – Western Cape Destinations
In addition, you can catch the boat to Robben Island from the V&A Waterfront. This is the one of the best cultural attractions in Western Cape. It is probably the most political Western Cape points of interest.
Unfortunately, I get sea sick really easy on tour boats. However, I was able to view Robben Island from the top of Table Mountain! Therefore, I will just say I was there if anyone asks me!
Although if you want to you can venture out, it is about a 10 kilometer boat ride.
#8 Stellenbosch – Western Cape Destinations
There is lots of very good, very affordable wine produced in South Africa. The European colonists discovered long ago that the Western Cape destinations were ideally suited for growing grapes.
Indeed, some vineyards in South Africa date back over 300 years! Stellenbosch vineyards are the top Western Cape tourism attraction for wine connoisseurs.
Stellenbosch is located near Cape Town and wine lovers can choose for an extended stay if they wish. There are many hotels in Western Cape that cater to wine enthusiasts.
All of the red wines from the western cape are good and they go great with local red meat such as springbok. However, I didn't care much for the white wines that they produce here. Something just wasn't quite right, especially with the chardonnay.
Stay Safe in South Africa
Are Western Cape Tourism Destinations Safe? South Africa has always had a relatively high crime rate compared to most other countries. Unfortunately, it appears that things have not gotten much better since the last time I was here.
During my most recent visit, there was a murder on one of the more obscure local hiking trails. It happened in a suburb about 20 kilometers south of Cape Town. The victim was a local Afrikaner.
I never had any direct contact with crime in South Africa. However, when there is that much poverty surrounding smug little enclaves like V&A Waterfront something has got to give. It is best to be cautious and stick to well populated, well lit areas.
Conclusion
I hope you enjoyed my list of fun things to do in Western Cape. Great surf, great hiking, great scenic fun, great wine (also very affordable), great beaches, great weather, great natural landscape. Western Cape, South Africa is one of the world's most diverse destinations.