I must admit, going on the Halong Bay Cruise was my 100% girlfriend's idea. Fortunately, this turned out well and it was loads of fun. We took a private Halong Bay cruise on a renovated Chinese style "junk".
These classic sailing vessels have had a ubiquitous presence throughout Asia for millennia. As a result, we got the best of both worlds. It was a private luxury cruise on a classic sailing ship through one of the most striking karst seascapes in the world. What more could anyone ask for?
Our Halong Bay Cruise Accommodation
We had just returned from a prolific one week tour of the NW Vietnam mountains. The same Hanoi tour company we used for the mountain trekking adventure also helped us to secure a private boat for our Ha Long Bay cruise. Therefore, we had the boat and crew to ourselves for one night and 2 days.
The boat itself was a classic. Our Halong Bay accommodation was a refurbished Vietnamese junk featuring an upper deck, al fresco dining area, one bedroom and private bathroom with shower. Over all it was pretty sweet!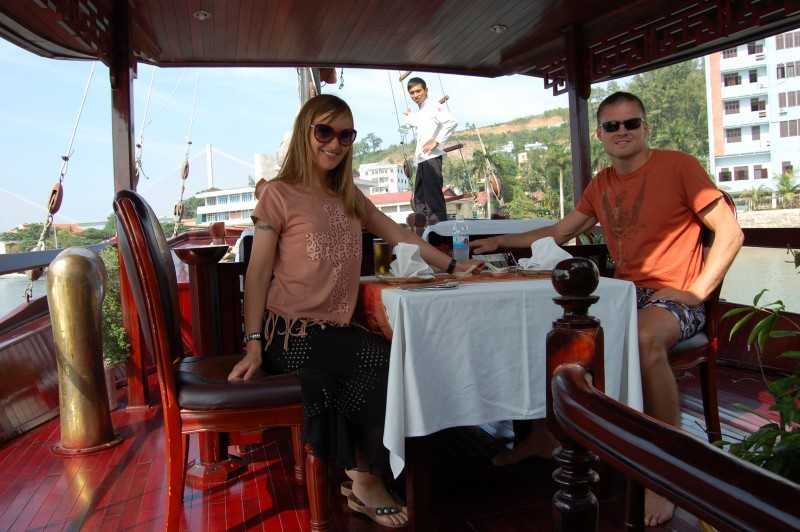 What Makes Halong Bay Beautiful?
Over 500 million years of geological processing formed the limestone deposits that are the foundation of Halong Bay, Vietnam. Thereafter, 20 million years of erosion and tectonic adjustments turned this area into one of the world's most profound karst topography seascapes. As a result, the site was listed as a UNESCO world heritage site in 1994.
Halong Bay Vietnam consists of over 1600 islands spread out over 43,400 hectares in Quang Ninh Province in NE Vietnam. The karst seascape formations are pillar like small islands and islets that rise up to 100 meters above the water level.
Furthermore, there were amazing arch formations, caves, undercutting (of the island pillars) and other unique shapes decorate the seascape. In fact, many of the islands are named after things that they resemble e.g. monkeys, bantams. Although some of the islands may have been creatively named, in my opinion. Nonetheless, the seascape is awe inspiring.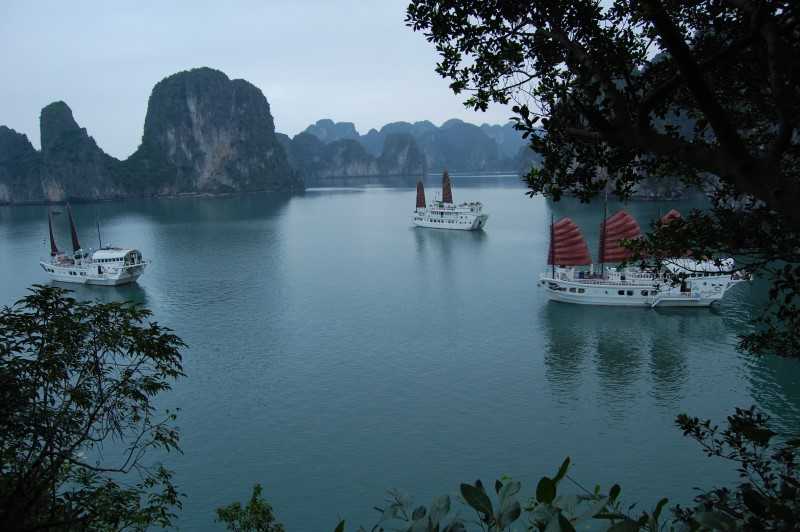 Halong Bay Cruise – Day One
We got settled into our accommodation while the captain piloted us out of the harbor and on our way. It would take a few hours to arrive at the anchorage destination and we would enjoy lunch while we sailed along our course.
The Halong Bay karst seascape would begin to unfold before our eyes as we sailed along. Therefore, our fantastic lunch was supplemented with some excellent scenery.
Day One Cruise Highlights
Our overnight anchorage destination was near a pristine Halong Bay beach that was on the same island as the prolific Thien Cung Grotto. Fortunately, there are no Halong Bay hotels on these islands and access is strictly controlled by the government.
As a result, tourist traffic is nominal so there are not too many people in the same place at the same time. This worked out well for our Halong Bay cruise adventure!
Our activities for the afternoon would be to explore the nearby island, go kayaking and also explore the inside of the grotto. For starters we were transported over to the island for some kayaking and cave exploration.
Fortunately, the Halong Bay Vietnam weather was perfect for our trip. Not so great for sunbathing, but perfect for our little sailing adventure.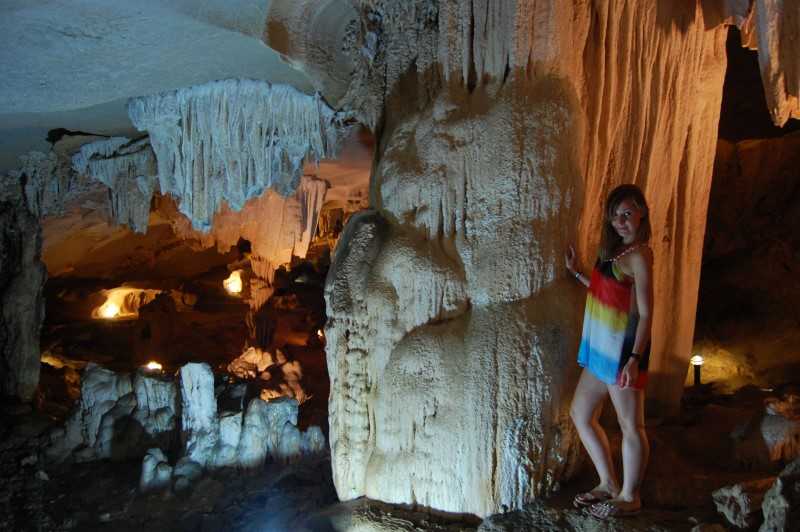 After spending a few hours exploring the unique flora and fauna of the area we reluctantly returned to the boat to get ready for dinner. Upon return, we lounged around for awhile and then got ready.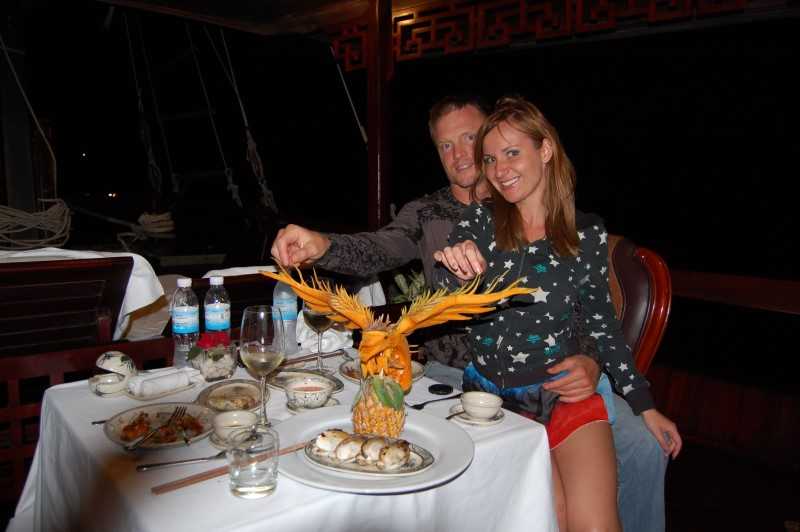 Halong Bay Cruise – Day Two
For the second day we were going to visit a floating village. Actually, the area was a conglomerate of 4 floating villages that pooled their resources for aquaculture, schools, markets and of course, tourists!
The whole thing had a heavily staged feel to it. Additionally, this part of the tour got us tangled up with tour group from the US. However, it was a brief encounter and no harm done. Indeed, Vietnam is a socialist country, so why shouldn't these spendthrift college students also enjoy our Halong Bay cruise?
Overall, it was OK and we went on a little paddle boat tour circuit. Along the way we checked out the aquaculture, schools and some of the unique karst topography in the landscape. Fortunately, we didn't need a Halong Bay map and we just followed the other boats.

The End of Our Cruise
After visiting the archway we were bustled through some floating tourist shops and then back to the ship to return to port. Sailing back to port was pretty enjoyable and after all the great service from the crew we were a little bit sad to see it end.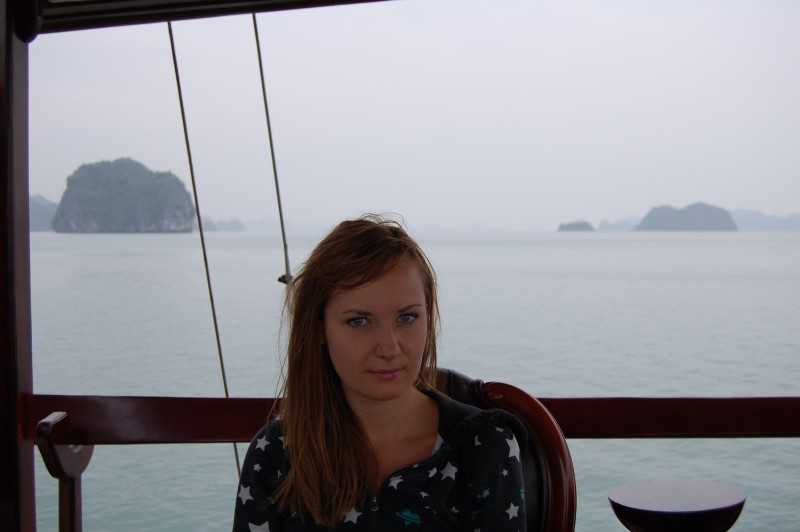 Our private Halong Bay cruise was excellent and I was very happy with the boat and the accommodations. Additionally, the Halong Bay Vietnam weather had been very accommodating for our entire trip. As a result, we were able to enjoy the full splendor of this natural attraction.
We were now going to relax in Hanoi for a couple days and then we were going to travel south to see the Ta Cu Reclining Buddha in Binh Thuan Province .