The last leg of our NW mountain tour was an awesome two day Sapa, Vietnam trekking adventure. Sapa, Vietnam is an idyllic little mountain district which features hundreds of miles of trekking trails that are a popular feature on the northwest mountain tours.
Furthermore, Sapa is the name of the township which is the capital of the district. We were going to see the sights around Sapa Township and then embark on our 2 day Sapa trek.
Sapa, Vietnam Trekking Itinerary
The best way to get to Sapa from Hanoi is by train. At least that is the most common method of transportation through the NW mountains. However, we were looking for a more enriching and personal experience. Therefore, we selected the complete package (with guide and driver) and elected to go on a one week NW mountain tour and visit several villages.
This Sapa trek was the last stage of the NW Vietnam mountain tour. As a result, we would spend a total of 3 days in Sapa Township in addition to 4 days exploring NW Vietnam. Upon arrival in Sapa, we would explore Sapa Township and stay the night in town, then depart for two days and one night trekking. On the third day we would return to Sapa and catch the night train back to Hanoi.
Ethnic Minorities in NW Vietnam
In Hanoi, I visited the Vietnam Museum of Ethnology. As a result, when my girlfriend arrived I convinced her that we needed visit the NW Vietnam mountains. The highlight of the tour would be the ethnic minority groups such as the Hmong. Therefore, we visited several tour agencies in Hanoi and chose our tour guide for the trip.
Exploring Sapa Township
We stayed at the Chau Long Sapa Hotel which is located on the edge of the valley. As a result, there are excellent views of the surrounding lowlands and also the mountains.
After arrival in Sapa, we had a full day for exploring the area before embarking on the trek. Indeed, there is a lot to do in and around the beautiful mountain township of Sapa.
Sapa Township is multi-ethnic and many of Vietnam's ethnic minority groups live in this area including the Red Dao (Yao), Black Hmong, Giay and Tay. This is the main reason why I came here and we wanted to visit with the ethnic minorities.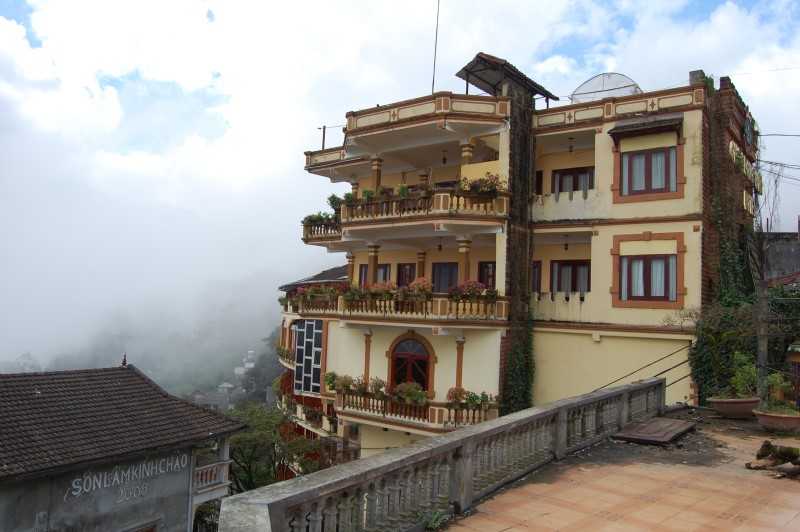 Our Sapa hotel was conveniently located in town and we took a stroll to the local farmers market. We encountered many Black Hmong on the streets of Sapa. They come into town during the day to peddle to the tourists and return to the countryside in the evening.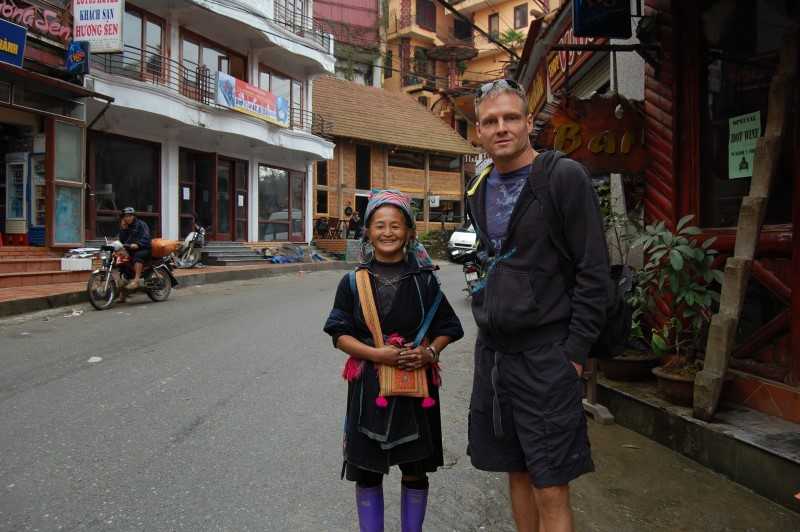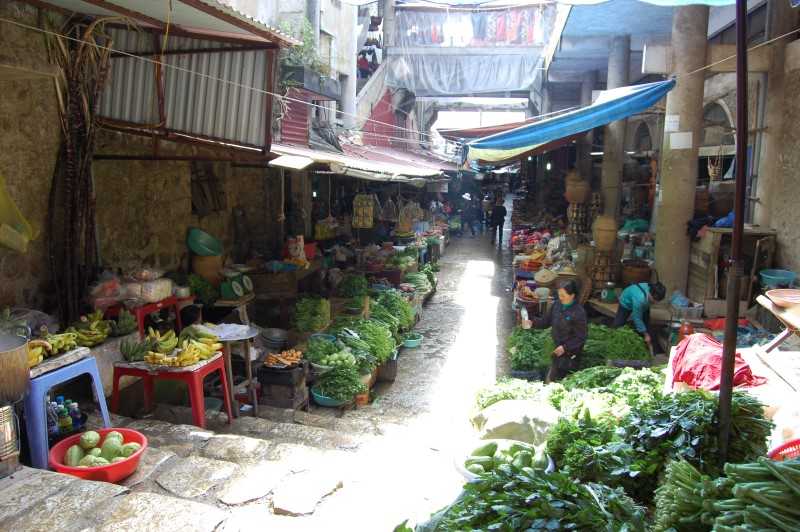 Half Day Sapa Motorbike Tour
Our guide suggested we do a short motorbike tour on the outskirts of Sapa. Therefore, we all rented motorbikes and ventured into the countryside together. He had suggested that we visit a small cave outside of town. As a result, we headed in that direction with him in the lead.
While touring by motorbike outside the city limits, we encountered a lot of the Red Dao ethnic group. They were also very interested in selling us their jewelry.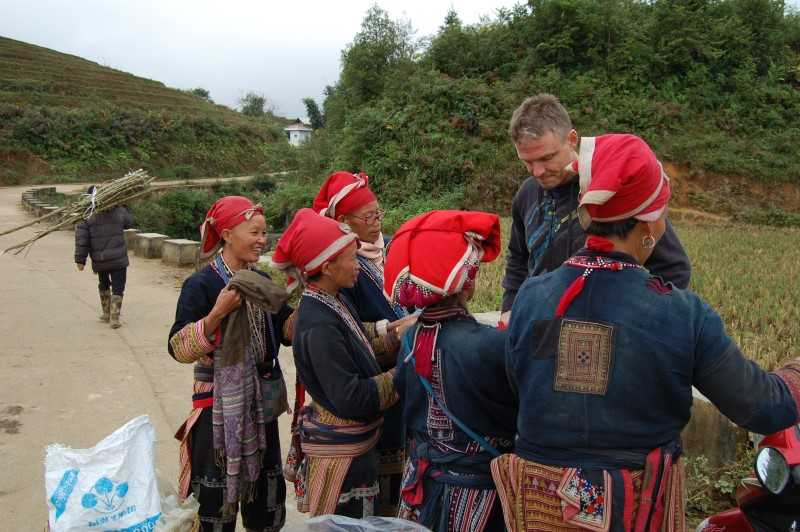 The Ideal Sapa Vietnam Trekking Route
The two days of our Sapa Vietnam Trekking adventure would be around the mountain village of Tavan. However, at our behest, our guide modified the trekking route in order to circumvent the plethora of backpackers in the Tavan area.
As a result, we would not enter the Tavan village during our Sapa Trek. Instead, we circumnavigated it and stayed at our guide's house where she has the loft set up for guests.
The Best Sapa Vietnam Trekking Guide
Our guide was of Hmong descent although she did not dress traditionally. She spoke excellent English and she had two kids with her husband. Additionally, her husband was not Hmong, but instead was of Dao ethnicity. I am so frustrated because I don't recall our guide's name, other than that it had only a single syllable.
Our Sapa, Vietnam trekking guide is seen on the left in the photo. Additionally, we are perched on the edge of the valley outside Sapa at the outset of our trekking adventure.
Mountain Landscape Around Sapa
The Sapa district is surrounded by misty mountain tops that comprise the Hoàng Liên Son range. Many of the mountains are of significance including Fan Si Pan which is 3143 meters above sea level.
Our Sapa, Vietnam trekking would take us through the valley and then up the far side through numerous terraced rice paddies and small communal groups of village homes.
We had plenty of company along the way as there were lots of Black Hmong villagers making their way to and from the Sapa township.
Keep in mind that the Sapa Vietnam weather forecast commonly will include rain! If you do this Sapa mountain trek, expect to get very muddy because you will surely step in the rice paddies! Our guide was wearing blue rubber boots but unfortunately, we were not so well equipped.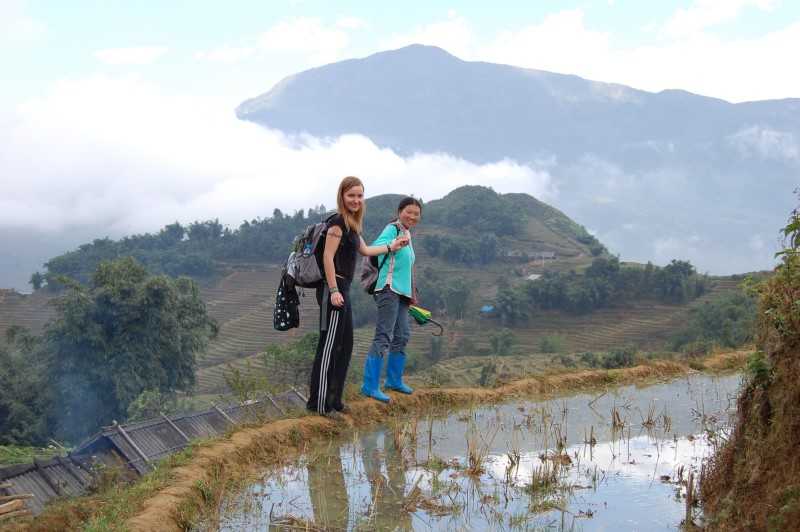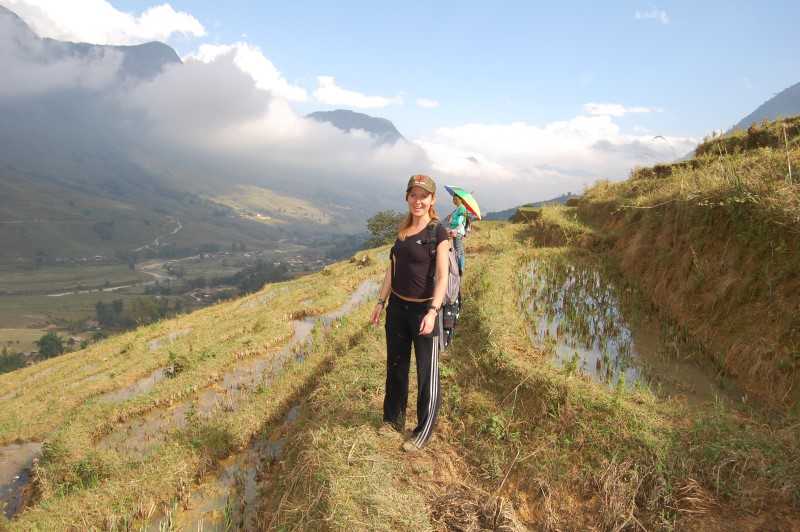 Indigo Dye Used by Black Hmong
Sapa Vietnam Trekking Accommodations
In late afternoon we were nearing the end of the trail and started descending into the valley to our guide's house. We would spend the night there before returning to Sapa the next day. Her house was situated on the other side of the valley and we needed to cross over.
The house was very big and we had beds set up in the loft where we would be spending the night. These accommodations were more comfortable and more personable than the Sapa Vietnam Hotels.
There are a lot of tour groups around Sapa Township and it added a superficial feel to some of the hotels and local restaurants. As a result, these accommodations were a refreshing change of environment.
The loft was very large and we had lots of space. Additionally, there was an adjoining deck which would be our al fresco dining area.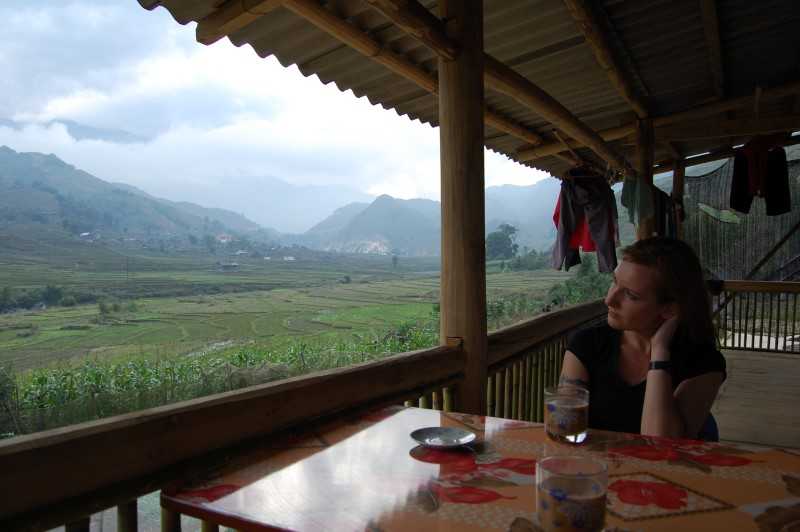 Shortly after arrival we got situated and then were introduced to our Sapa guide's daughter who would be our temporary guide while her mom assisted with dinner.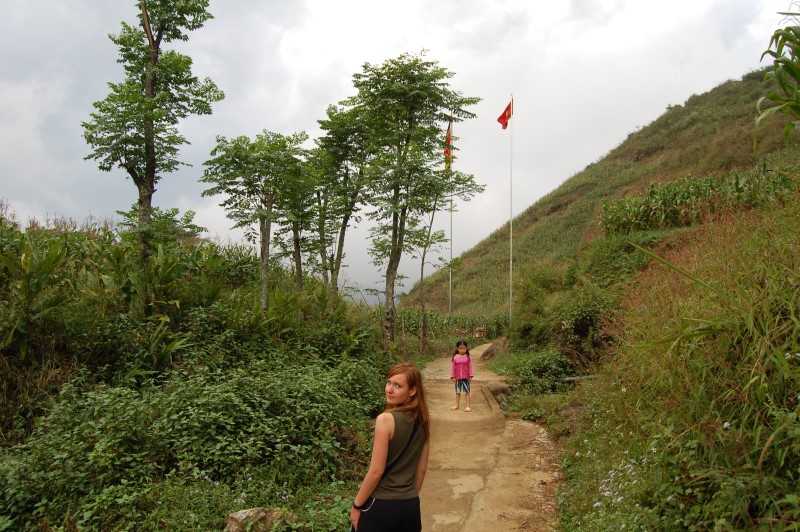 Encounters with the Black Hmong Man
While we were out and about we ran into a Black Hmong man dressed in traditional clothing. It's not surprising that we didn't see many traditionally dressed Hmong men while trekking in Sapa province. The Hmong had allied with the US and French during the Indochina wars, as a result they still face persecution today.
I would think that most of the Hmong males who were able have already left Vietnam. Especially those who were old enough to have participated in the wars. I did not ask our Sapa Vietnam trekking guide about this, however the dearth of Hmong men in the area may partially explain why her husband is Dao.
My girlfriend was anxious for a picture. However, he was very shrewd and would not agree unless we paid him a few dong. After his fee was paid he was all smiles.
The Last Day Sapa Vietnam Trekking
We had a hearty breakfast and then went to visit a waterfall before catching our ride back into Sapa. The food was great. In fact, if I had to make up something to complain about during our Sapa Vietnam trekking adventure, it would be that our host fed us too well.
They had an open hearth that they cooked over. As a result, it was amazing how good everything was because it was cooked over an open fire. This is our guide's Dao husband in front of their "kitchen stove".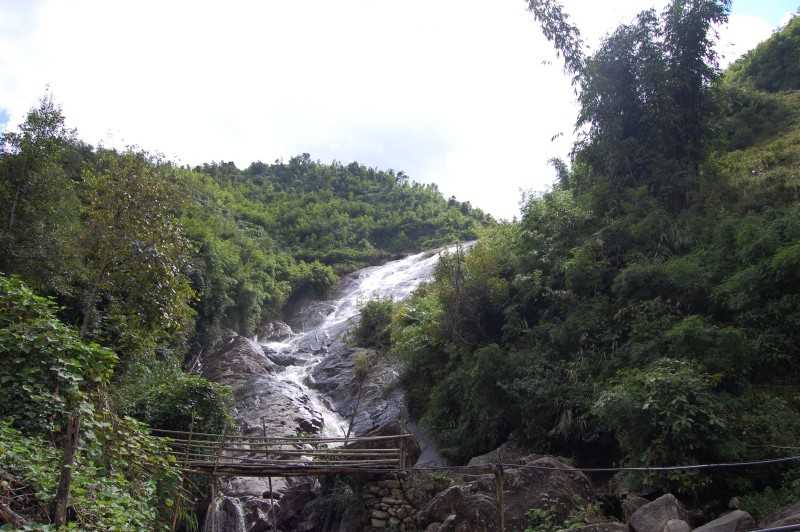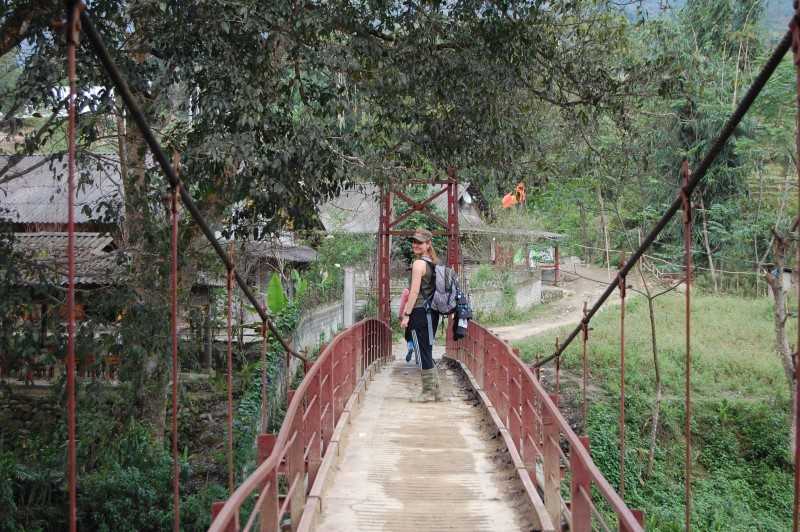 Return to Sapa
After arriving in Sapa we were met by a representative from our Sapa Vietnam tours company who scheduled our ride to the train station that evening.
We would be returning to Hanoi by train to spend the night there. From Hanoi, we would travel Halong Bay and after a 2 day private cruise we would then travel to Ta Cu Mountain in SE Vietnam. The train ride to Hanoi would conclude our excellent Sapa Vietnam Trekking adventure.