The best safari destination in South Africa is Hluhluwe Imfolozi Park. Located within KwaZulu-Natal coastal province, this renown game reserve was the former private hunting grounds of King Shaka Zulu.
King Shaka was the powerful ruler of the Zulu people during the early 19th century. In modern, times the Zulu ethnic group are located predominantly in KwaZulu-Natal Province with a population of about 10,000,000.
King Shaka's private hunting grounds were enshrined with national reserve status in 1985. Thus, making Hluhluwe Imfolozi Park the oldest game reserve in all of Africa.
Additional, stand out features of Hluhluwe Imfolozi Park are its large size of 960 square kilometers. Plus, it contains Africa's Big 5 game animals the elephant, rhino, cape buffalo, leopard and lion.
Hluhluwe Imfolozi safaris offer a first class self tour safari opportunity. Additionally, this venerable safari park offers a very competitive alternative to it's more famous cousin Kruger National Park.
Due to the enormous size of Kruger National Park, the most enjoyable safari animals can be very difficult to locate in the park. Not so at Hluhluwe Imfolozi Park where visitors will enjoy an intimate safari adventure with myriad opportunities for game sightings.
During the 3 months I spent in KwaZulu-Natal I enjoyed 5 Hluhluwe Imfolozi safaris. I have documented my experiences in great detail below.
Hluhluwe Imfolozi Park Hours
The Hluhluwe Imfolozi Park entrance opens daily at 6AM sharp and visitors are well advised to get an early start for the best game viewing opportunities. This is because many of the safari animals are most active in the early morning. As a result, getting an early start will create optimal game sighting opportunities. Additionally, conditions for photos are much better in the early morning light.
The park closes at dusk and visitors would be well advised not to get caught in the park after dark, lest they be mistaken for poachers. This could be potentially dangerous as the night patrols are heavily armed and so are the poachers.
Sunrise Photos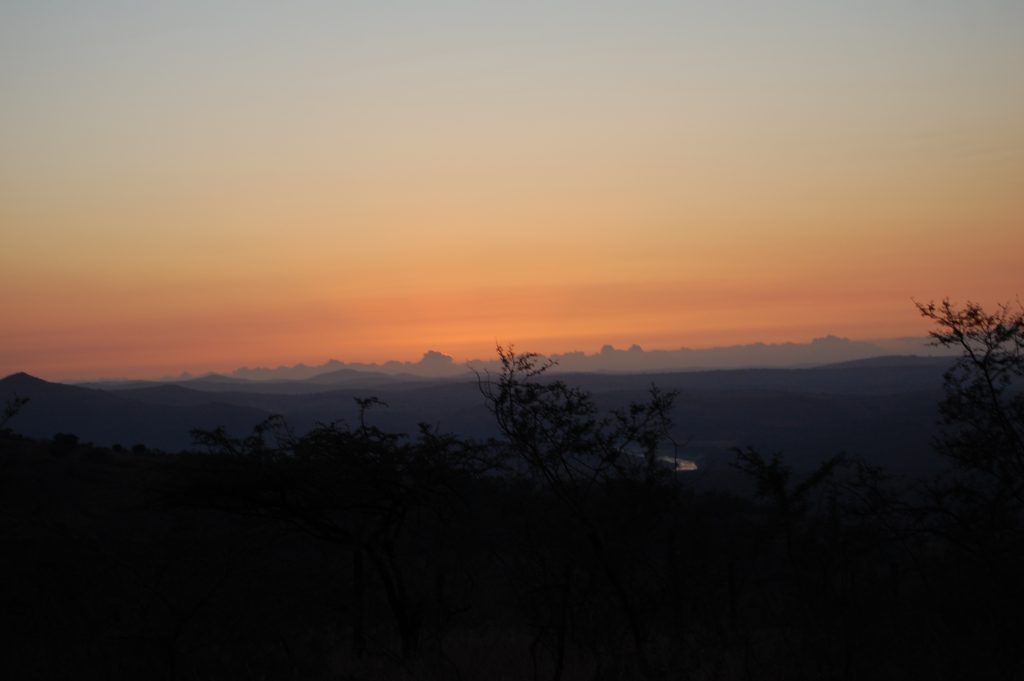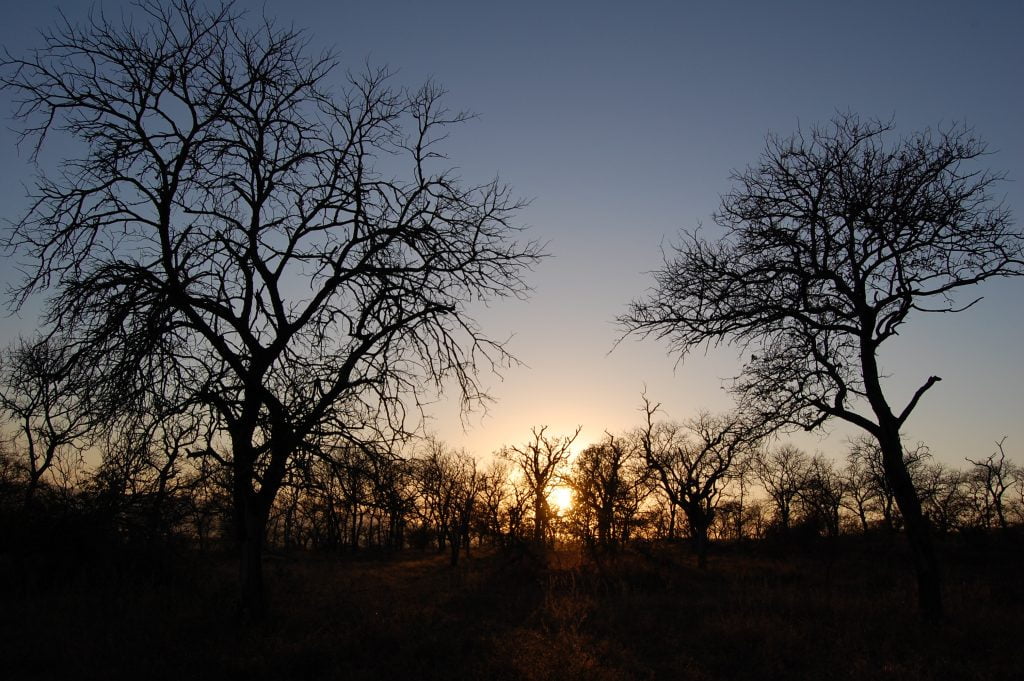 Hluhluwe Imfolozi Park Map
There is a good Hluhluwe Imfolozi Park map available at the visitors center. Hluhluwe Imfolozi safaris will require the map and it would be foolish not to bring one on the self tour.
Hluhluwe Imfolozi Park is separated into 2 sections and the dividing line is the R618 road. Thus, the R618 road separates Hluhluwe from Imfolozi and it is also the main access road to the park entrance gates.
There is a significant difference between the two sides of the park which I will discuss below. I spent four full days for self drive safari on the Imfolozi side of the park and one full day in Hluhluwe. It pays to take notes and familiarize yourself with the different sections of the park.
What is the difference between Hluhluwe and Imfolozi?
The Imfolozi section is located south of R618 and this area is mostly situated between the 2 upper branches of the Umfolozi River. This area of the park consists of wide valleys and also steep hilly areas.
Hluhluwe hilltop area is located on the north side of R618. The area is mostly plateau featuring rugged hills and grasslands. It is not characterized by the wide river valleys that define the landscape of Imfolozi.
I spent most of my time on the Imfolozi side as it was where an encounter with the lions would be most likely. In general, it was an overall better self drive safari experience than the Hluhluwe side of the park.
See Africa's Big 5 at Hluhluwe Imfolozi Park
Hluhluwe Imfolozi Park is the only state run park in KwaZulu-Natal to have the "Africa's Big 5" inside the park. Africa's big 5 consist of the elephant, rhinoceros (both black and white rhino), Cape Buffalo, lion and leopard.
Hluhluwe Imfolozi safaris also feature a wide variety of other safari animals such as kudu, baboons, springbok, giraffes, crocodiles, cheetah, hyena, terrapin, wildebeest and of course the ubiquitous burchell's zebra. Visitors should be able to encounter all of these animals inside Hluhluwe Imfolozi Park.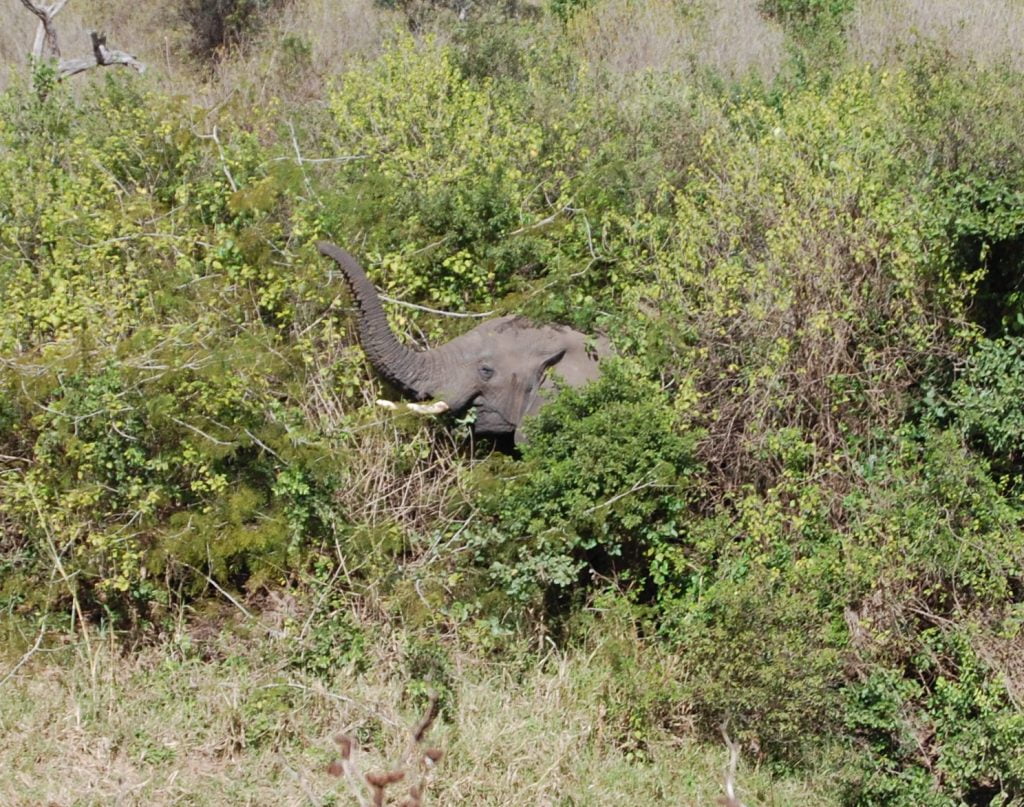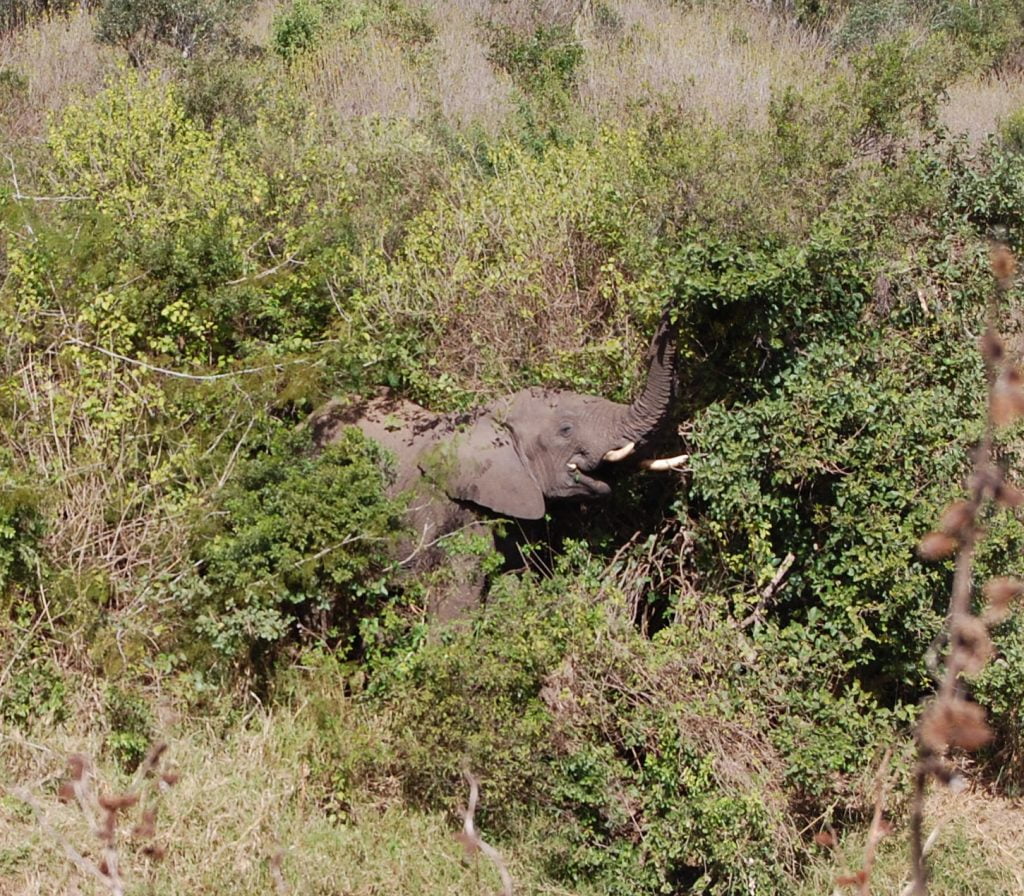 White Rhinos
White rhinos are a prominent feature of Hluhluwe Imfolozi safaris. Although the white rhinos were quite abundant inside Imfolozi, I did not find any in the Hluhluwe section. Altogether, there are about 1000 white rhinos inside of Hluhluwe Imfolozi Park and therefore, they are rather easy to find.
White rhinos are similar to black rhinos however, they do have some significant differences. Closer examination will reveal the black rhinos have a pointed upper lip for eating tree fruit and shrubs. Additionally, the black rhino has a more narrow mouth.
The white rhino has a much broader mouth because it grazes on grass as its primary food source. Also, white rhinos have a longer and more narrow front horn and its hips are slightly lower to the ground than its shoulders.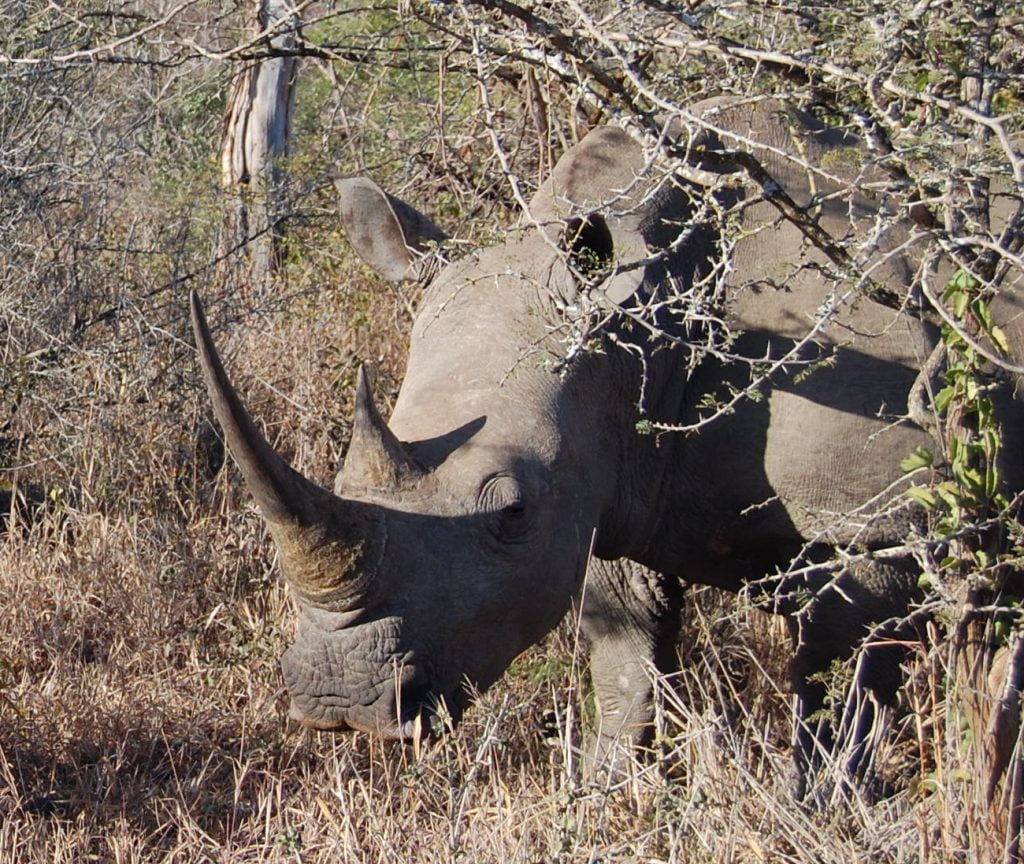 Unfortunately, both rhinos were almost hunted to extinction due to the perceived medical benefits of their horns. Although, biologically rhino horn is made up of the same material as human fingernails.
Due to conservation efforts the rhino population in Africa has stabilized for now. To discourage poachers, there was a significant presence of armed guards in Hluhluwe Imfolozi Park that begin patrolling at sundown.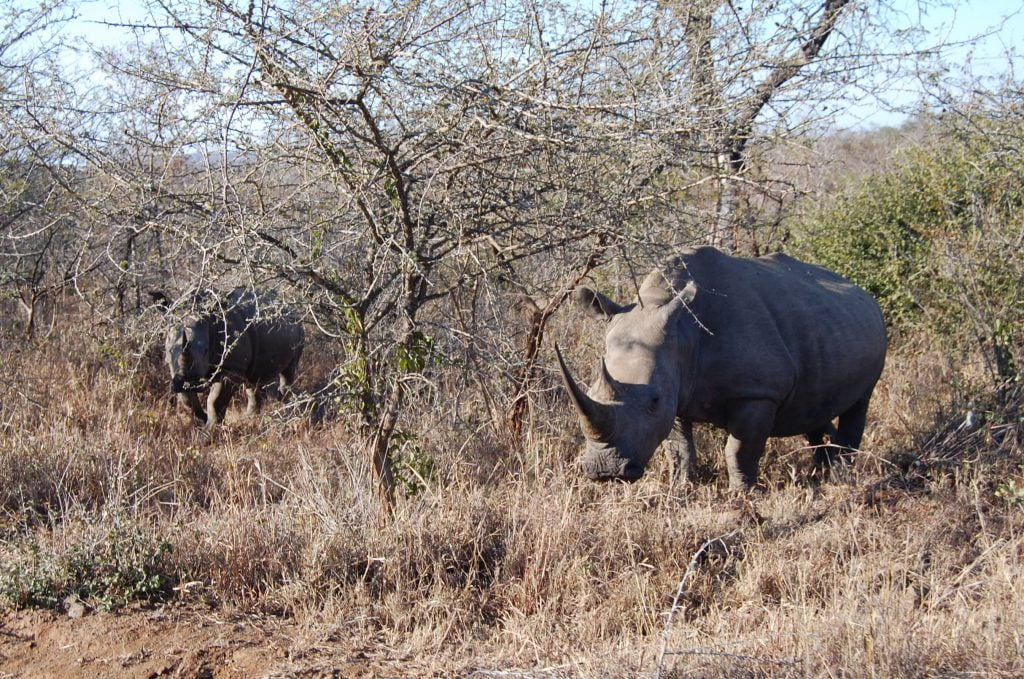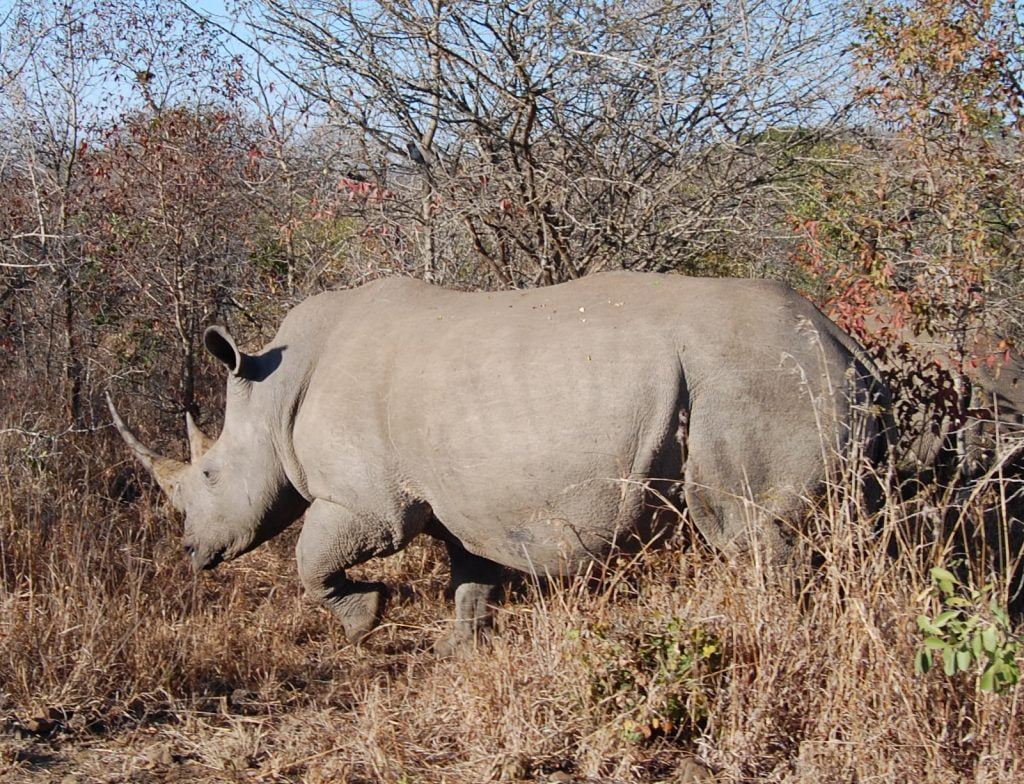 Cape Buffalo at Hluhluwe Imfolozi Park
Another of the Africa big 5 that I encountered while I was visiting Hluhluwe Imfolozi Park was the cape buffalo.
Also known as the African buffalo, this animal has never been domesticated due to its unpredictable and dangerous nature. Ironically, it is a sub-species of the larger Asian water buffalo which has been widely domesticated in Asia.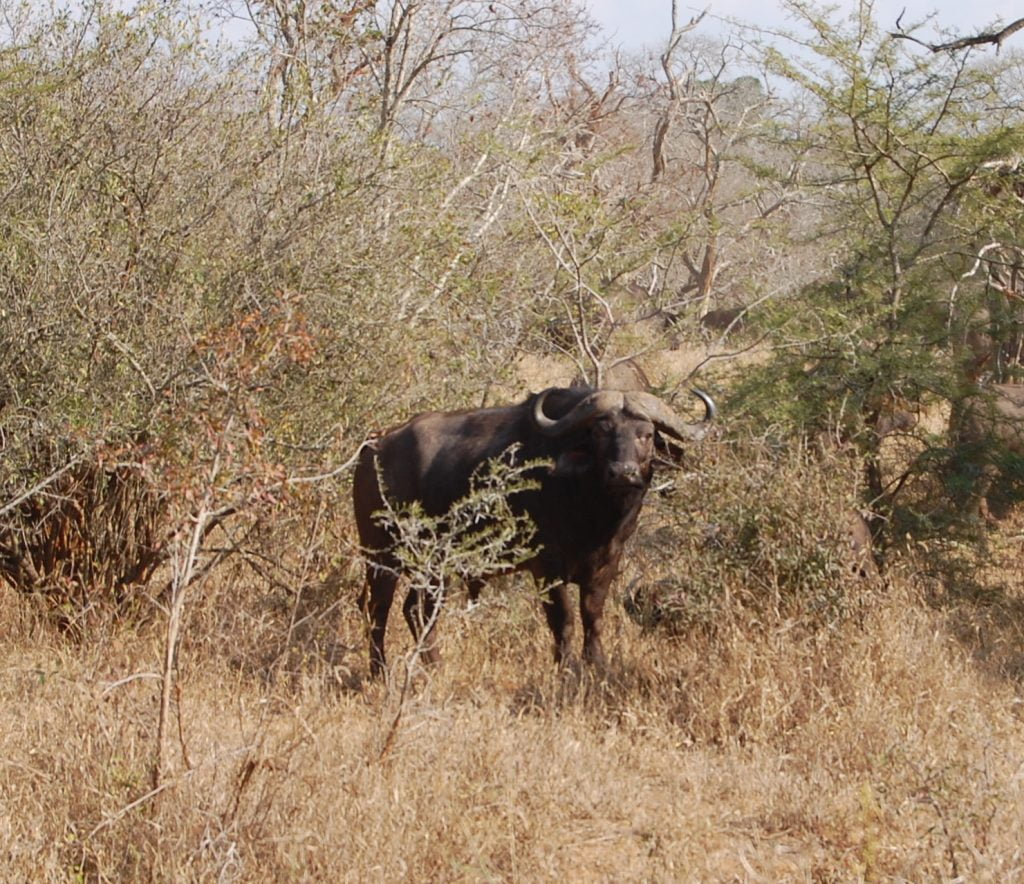 Elephants at Hluhluwe Imfolozi Park
A main feature of Hluhluwe Imfolozi safaris is the resident elephant herd. I encountered a large breeding group which was made up of about 50 elephants comprised mostly of adolescent males, calves and adult females. Conspicuously absent are the large adult males.

As young adults, male elephants are ostracized from the breeding group and live solitary lives outside the herd, only reuniting with the females during breeding season.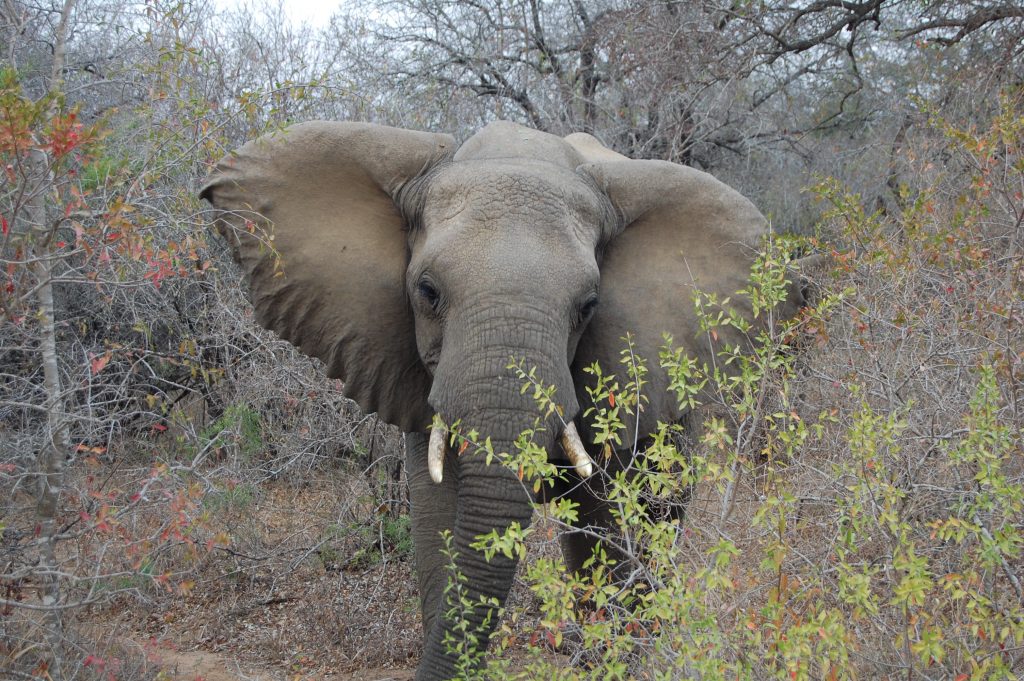 Listening to Elephants
This elephant encounter occurred in an area with limited visibility. It consisted of fairly thick undergrowth, mid sized trees and shrubs. I knew there was a lot of elephants surrounding me because I could hear them communicating with each other, but I could not see most of them.
If you can imagine a cat purring into a stereo microphone then you will hear elephants communicating. The sound consists of very deep and powerful vibrations that can be received by other elephants many miles away.
However, these elephants were all in this general area within approximately a few hundred meters on both sides of the road. Most of them were completely hidden or partially obscured by the underbrush. I turned off the car engine for a while and rolled down the window to listen in.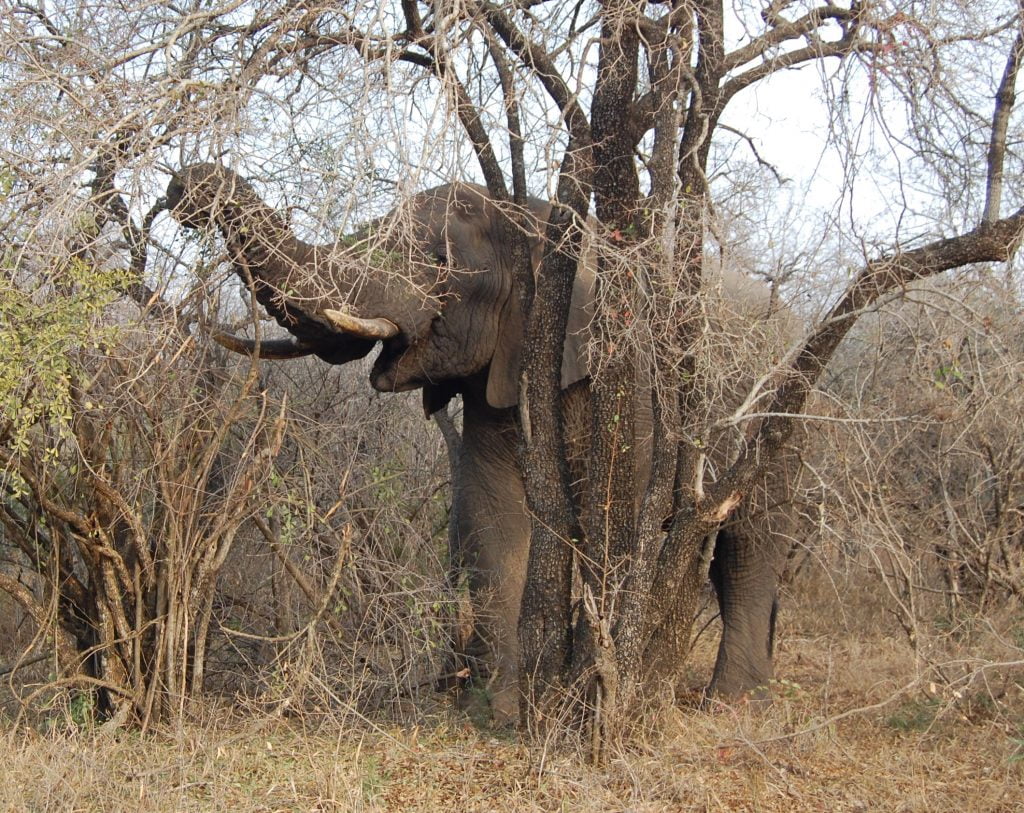 They knew that I was there and grudgingly permitted my presence. In the photo above, the female gave me a passive warning because she didn't have any offspring of her own.
However, when I started the engine and started to slowly pull away, I had another encounter that was a bit more aggressive.
Aggressive Elephant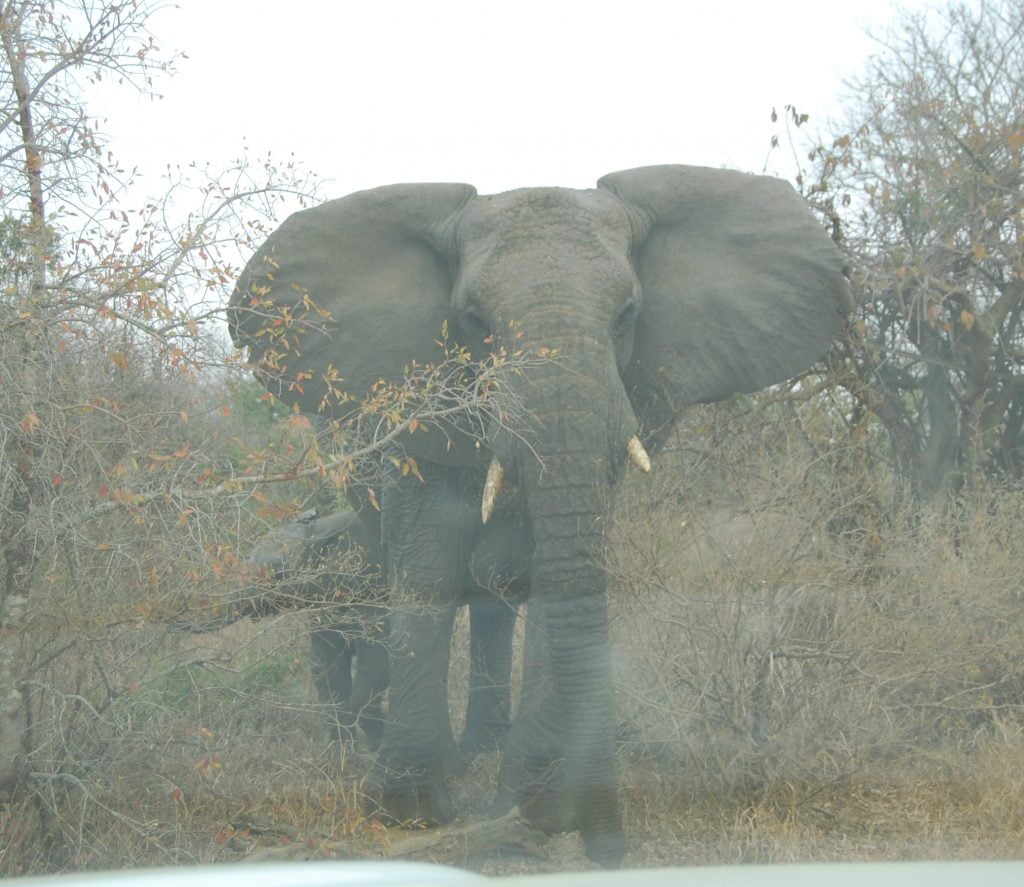 This elephant and I had both surprised each other. I was pulling away and she was just stepping out from behind some brush to cross the road in front of my vehicle.
Additionally, this elephant was much larger than the other one I had been in close proximity with. She had a calf with her so she was being very protective.
Typically, elephants will throw out their big ears to try and look intimidating. This gesture provides some assurance that they will not attack the vehicle. However, if they are going to charge, they will pull in their ears first in order to protect them. If so, the situation can quickly become dangerous.

Fortunately, I did not appear too threatening and she blow her horn at me (see below) and then crossed the road.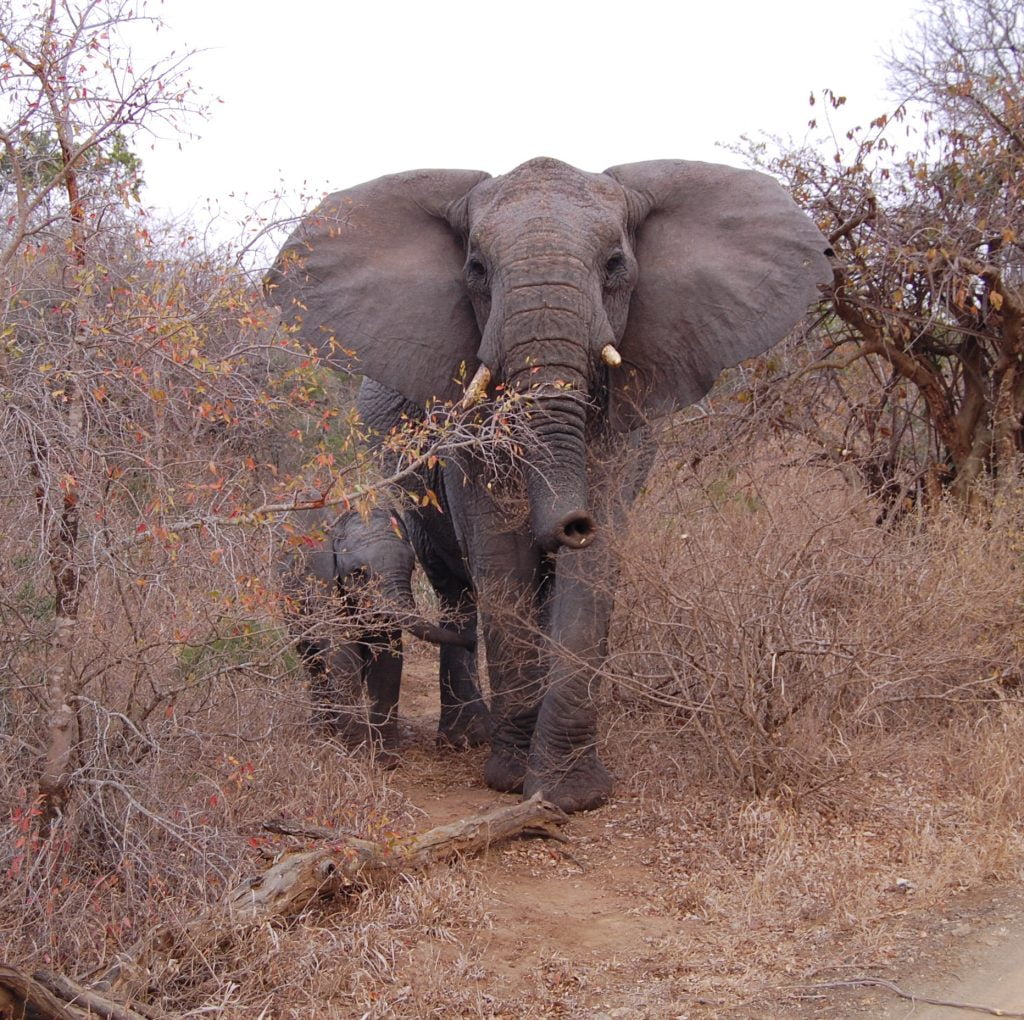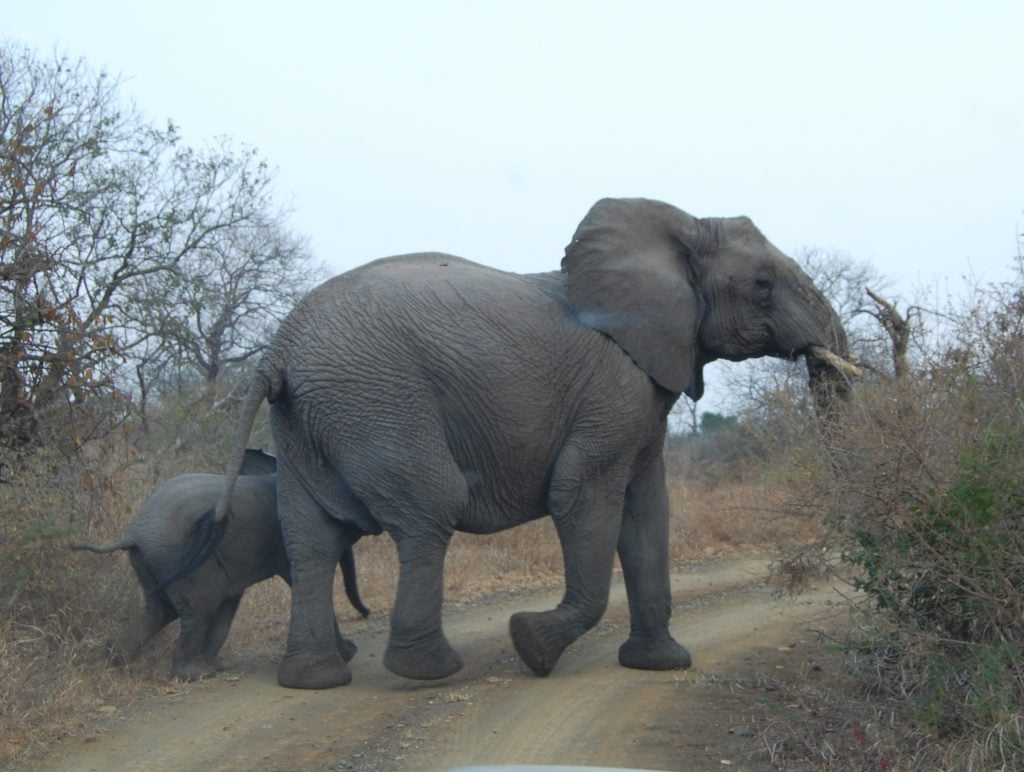 More Safari Animals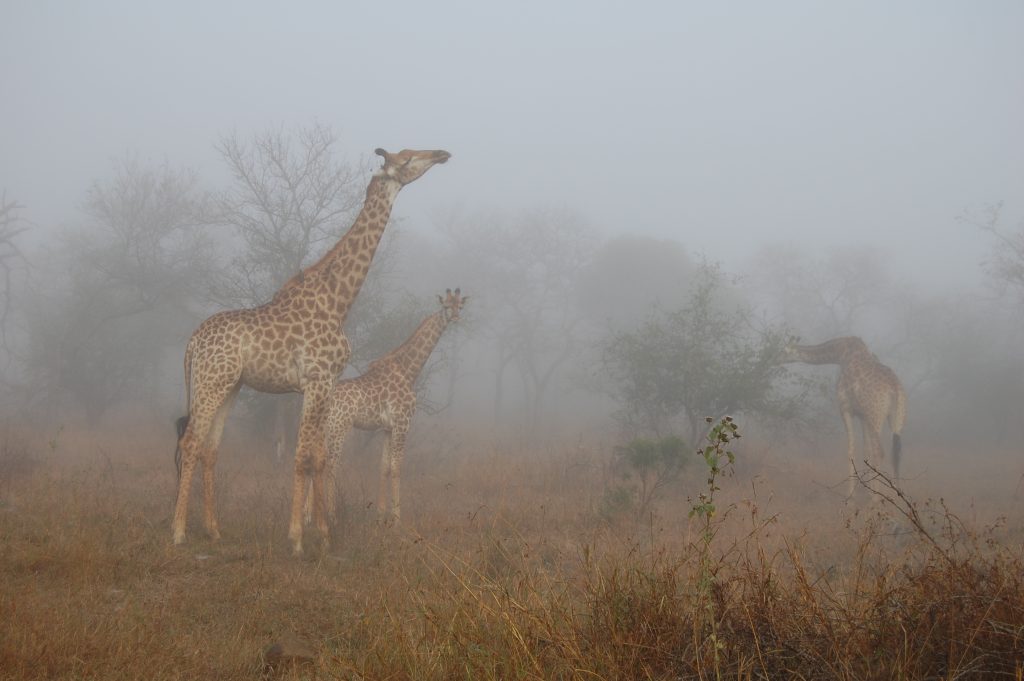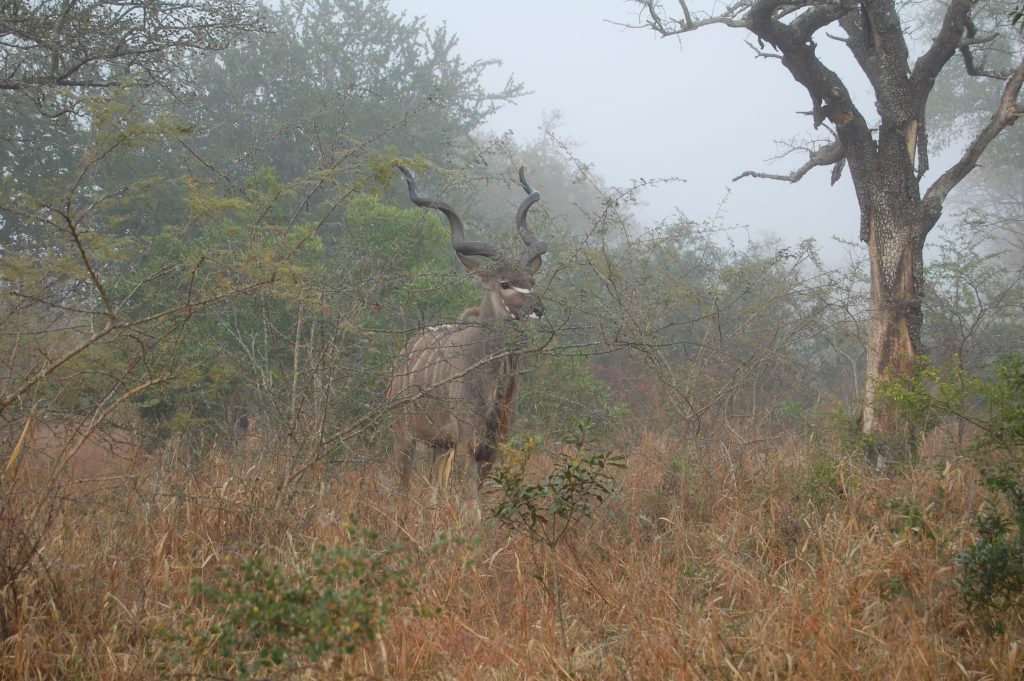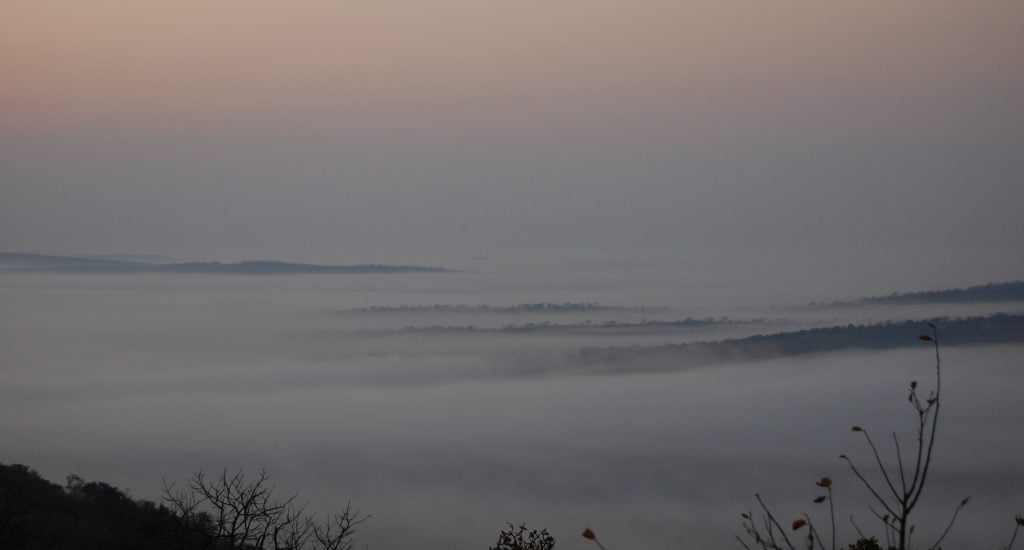 Predators at Hluhluwe Imfolozi Park
I had several encounters with the lions at Hluhluwe Imfolozi Park and they were quite exhilarating. However, in the heat of the moment I was not able to get very good photos.
It pays to have a good telephoto lens with you during Hluhluwe Imfolozi safaris. Unfortunately, I was not well prepared in that respect.
However, I did have some decent photo opportunities with the other predators that live inside the park.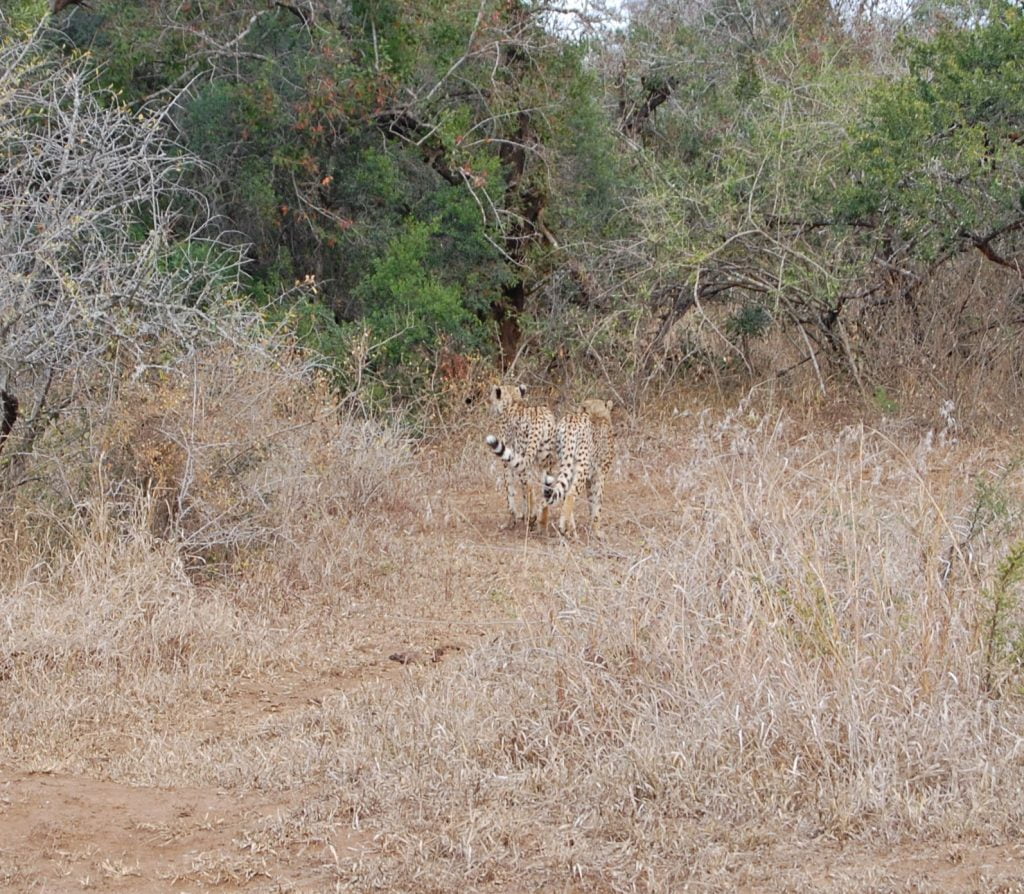 Hluhluwe Imfolozi Park Accommodation
I chose the small beach town of Zinkwazi for my Hluhluwe Imfolozi accommodation. Unfortunately, it is a 2 hour rive and I had to embark very early each morning at about 3:30-4:00AM to get there by 6AM. Although the park is easy to find, just go north on N2 from Zinkwazi until you reach exit 375 for R618.
Zinkwazi is a plush little beach town enclave located on the KwaZulu-Natal coastline. On the drive back every evening it is very enjoyable to pass over the rolling hills of endless sugarcane fields that define the landscape.
Safari Guides at Hluhluwe Imfolozi Park
One of the main reasons that I was so attracted to the Hluhluwe Imfolozi safaris is that it was a world class opportunity. Additionally, it would wet my appetite for many more safari adventures.
However, I elected to forgo a guided Hluhluwe Imfolozi safari because I am very independent minded. My encounters with the guides during the 5 days I spent on safari at Hluhluwe Imfolozi park would soon vindicate my premonition. I was flagged over several times by some professional safari guides at Hluhluwe Imfolozi Park and they were asking me for tips about animal sightings.
All you need to enjoy the park is common sense, a good safari vehicle and a copy of the Hluhluwe Imfolozi Park map which you can get at the entrance gate. Therefore, I certainly recommend the self tour.
Additionally, the roads are in good condition and by chatting up local park employees (not the guides) you can get some good info for the best game sightings.