Kyaiktiyo Golden Rock has been a sacred destination for Buddhist pilgrims for over 2600 years. The main attraction is a giant golden rock meticulously covered in 24K gold leaf. Additionally, there are relics of the Buddha enshrined in a small pagoda perched on top of the rock. However, the rock is also perched on the edge of a cliff and seemingly could go tumbling into the valley below at any second.
How does the rock stay in place? Devout Buddhists believe that there are hairs of the Buddha which keep the rock glued there. Indeed, some mysterious force is clearly holding it in place after 2600 years of gravitational pull.
One thing is certain, Kyaiktiyo Golden rock is well worth a visit for everyone. This includes tour groups or the more adventurous sort who hike to the top – of course I took the path less traveled. Read more below about my adventurous hike to Kyaiktiyo Golden Rock.
Gateway to Kyaiktiyo Golden Rock
Indeed, getting from Yangon to golden rock is an adventure in itself. The location of Kyaiktiyo is about 160 kilometers Northeast of Yangon in Mon State on a mountain top 1000 meters above sea level.
To get to Kyaiktiyo, aspiring visitors must first travel to the village of Kinpun at the base of the mountain. Kinpun makes a comfortable base camp with an array of overnight accommodations including a variety of local restaurants.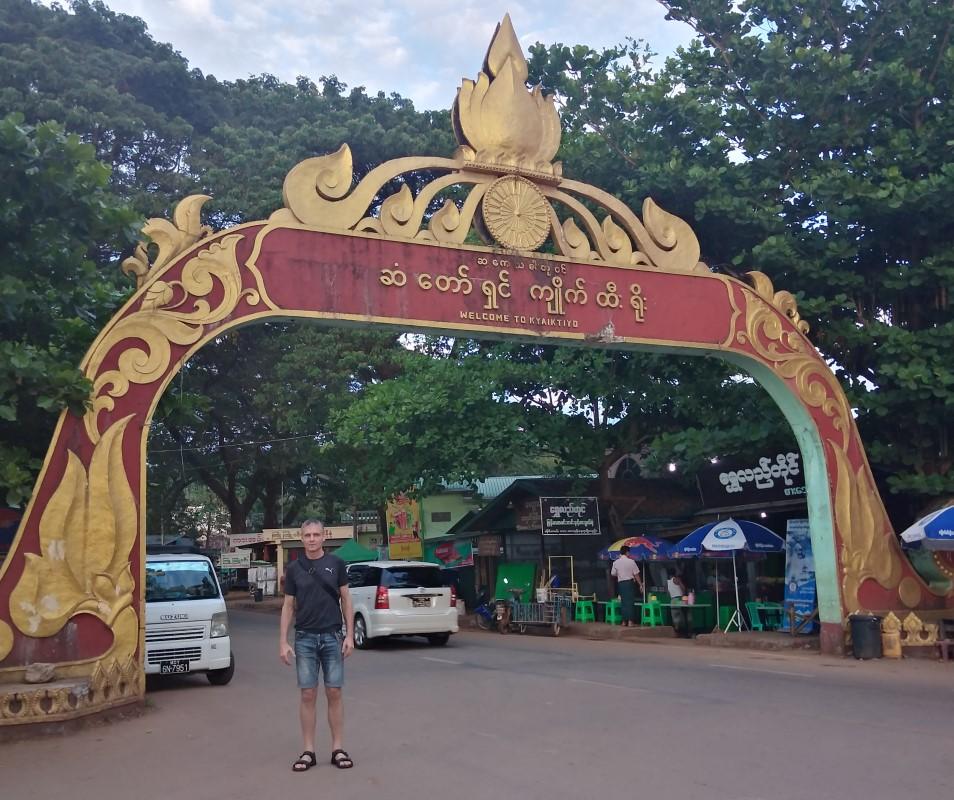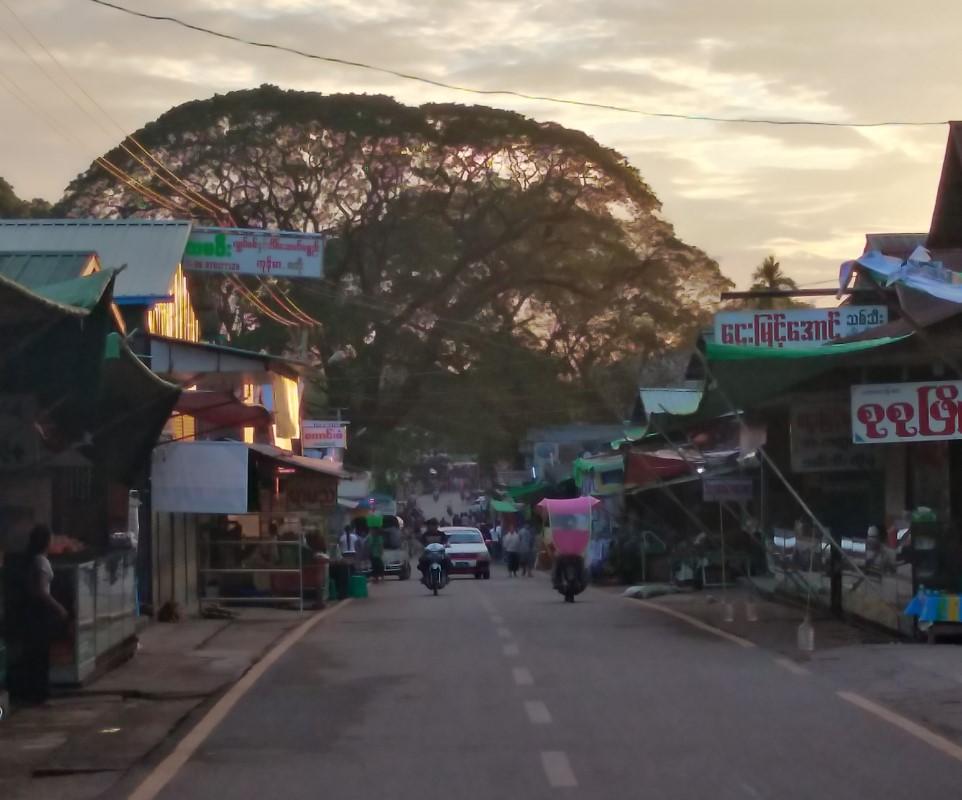 I took the bus from Yangon which overall was fairly painless, dirt cheap and only took about 2-3 hours. For my Kinpun accommodation I chose the Golden Sunrise Hotel which is about a five minute walk from town. The Golden Sunrise has nice rooms and they served a good breakfast in their restaurant. For dinner, I chose to walk into town on both nights.
Unfortunately, a tour group showed up at the hotel for my second night. Nonetheless, Golden Sunrise is a great little hotel with good value. Note – be warned that you will need a local SIM card with sufficient data for internet access.
Kinpun to Kyaiktiyo
There are two options to get from Kinpun to Kyaiktiyo – sit in the back of a modified dump truck and ride to the top or take the golden rock hike up the mountain. For me, there was no other option but the golden rock hike.
Indeed, hiking through mountain villages in an exotic country was irresistible with a great reward at the end. Plus, you get to enjoy the cool breeze in the back of the truck as you wind your way back to Kinpun at the end of the day.
Hiking to the Golden Rock from Kinpun
To find the trailhead from Kinpun to Kyaiktiyo – get an early start – simply walk down main street for 10-15 minutes and the village will start to fade away into the jungle – if so you are on your way to Kyaiktiyo Golden Rock.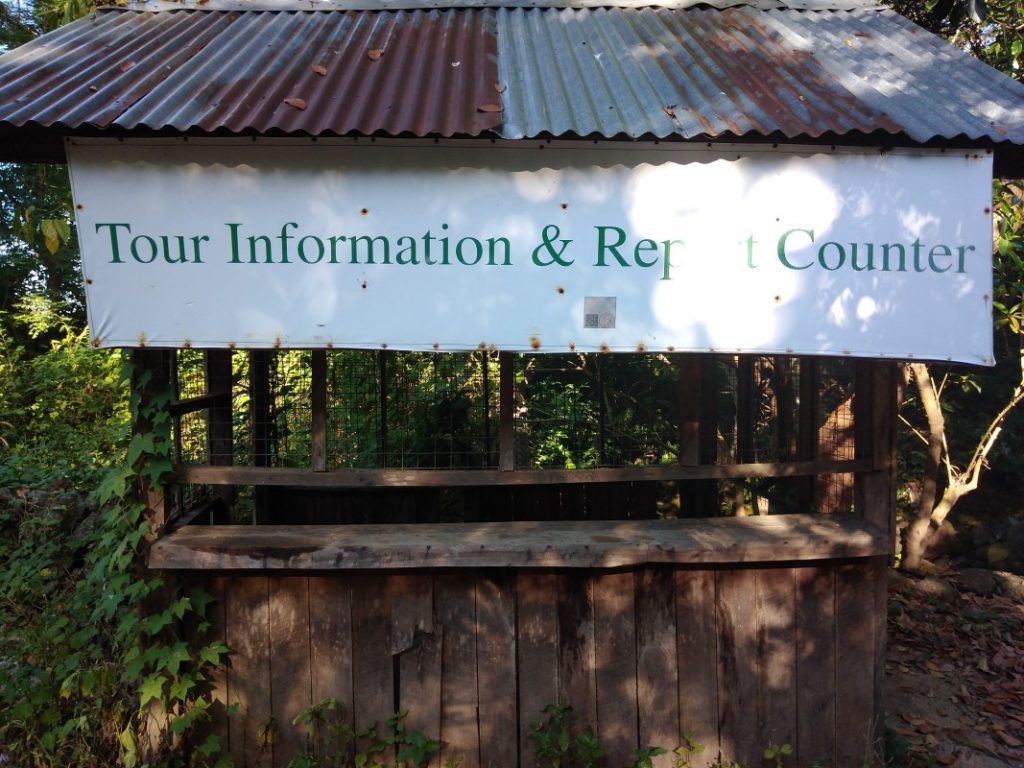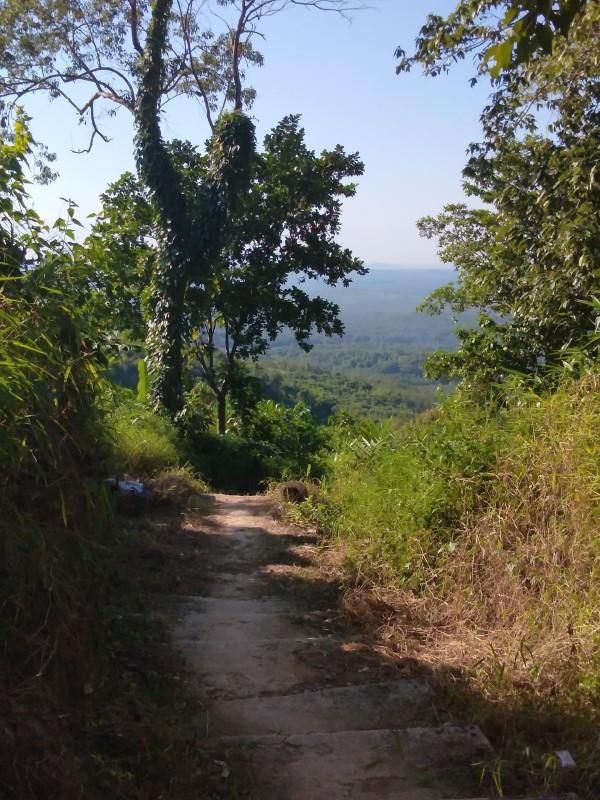 There are lots of sights to see – Buddha statues, Nat temples, mountain streams, scenic view points and also plenty of little cafes with water and food if needed.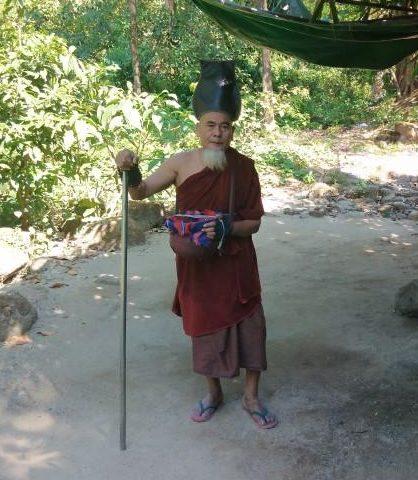 The hike from Kinpun to Kyaiktiyo is only moderately strenuous – in my opinion. Indeed, by the time you are feeling the burn you are already up on the ridge line checking out the view.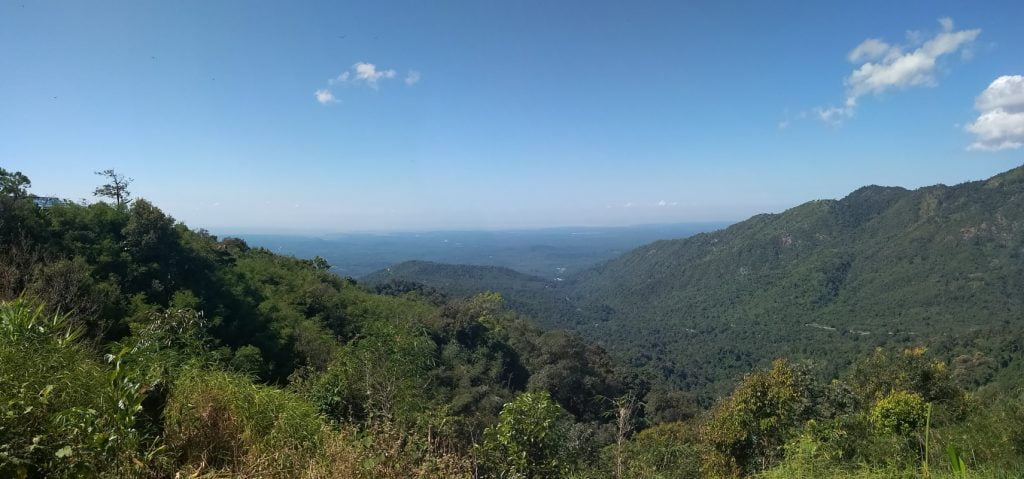 To be sure, once you are on top of the ridge, the Kyaiktiyo Golden Rock hike is far from finished. However, the next 1-2 kilometers comes with a cool breeze and great views. But be prepared because there is one more steep section to go.
Up on the ridge, I came across several little cafes and a small factory where they manufactured bamboo machine guns.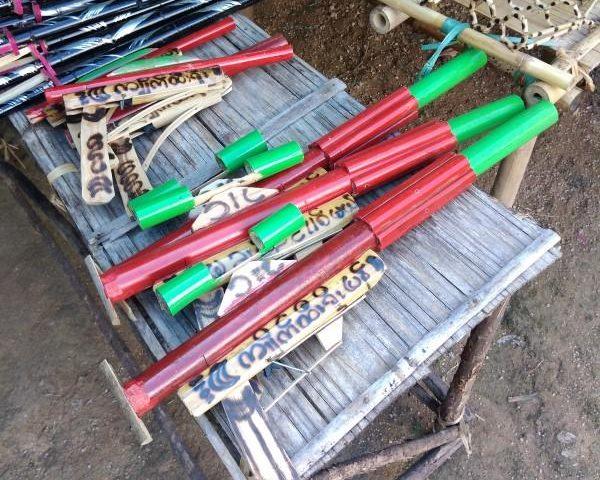 Also, for a premium price of 2600 Kyat you can get a cold coconut plus other local snacks.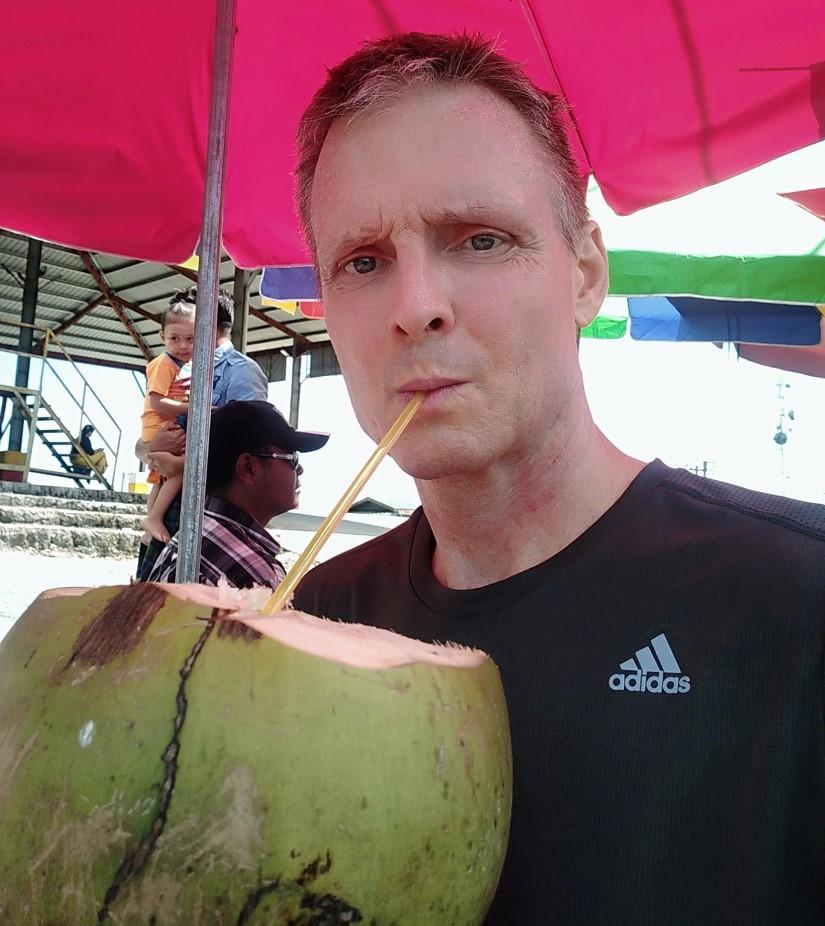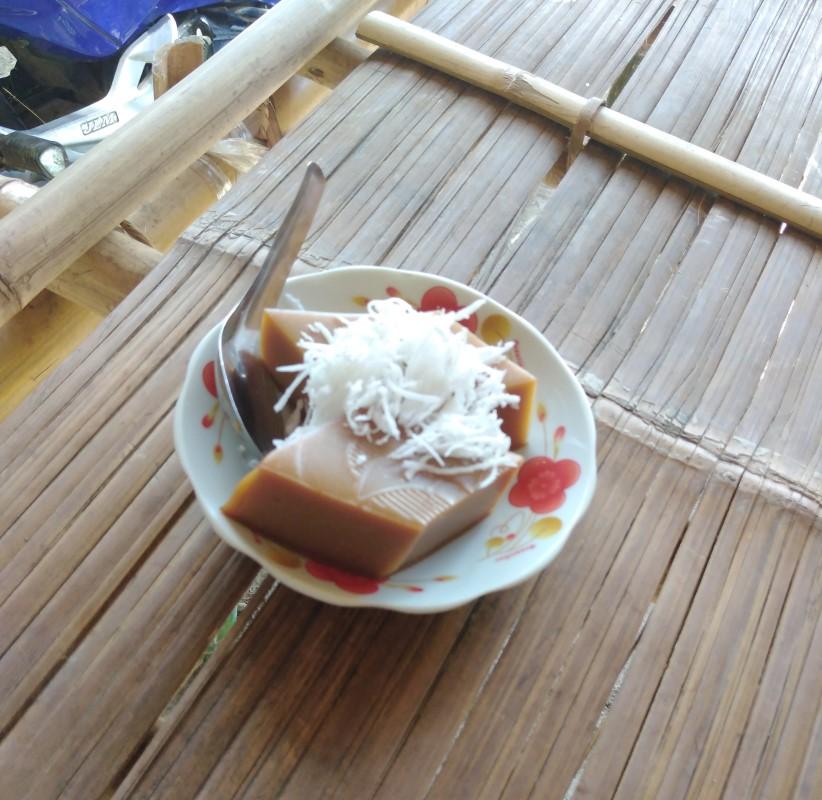 Arrival in Kyaiktiyo
Eventually, the forest will make way to small villages and finally the summit village of Kyaiktiyo. Simply follow the pathway with the other visitors past a myriad assortment of shops, restaurants and hotels. Additionally, visitors who are not properly attired are required to put on a longyi and remove shoes and socks. Also, there is an entrance fee of 10,000 Kyat for foreigners.
In the photo below I am wearing the traditional Myanmar longyi and a Kyaiktiyo day pass around my neck. Kyaiktiyo Golden Rock is seen in the background.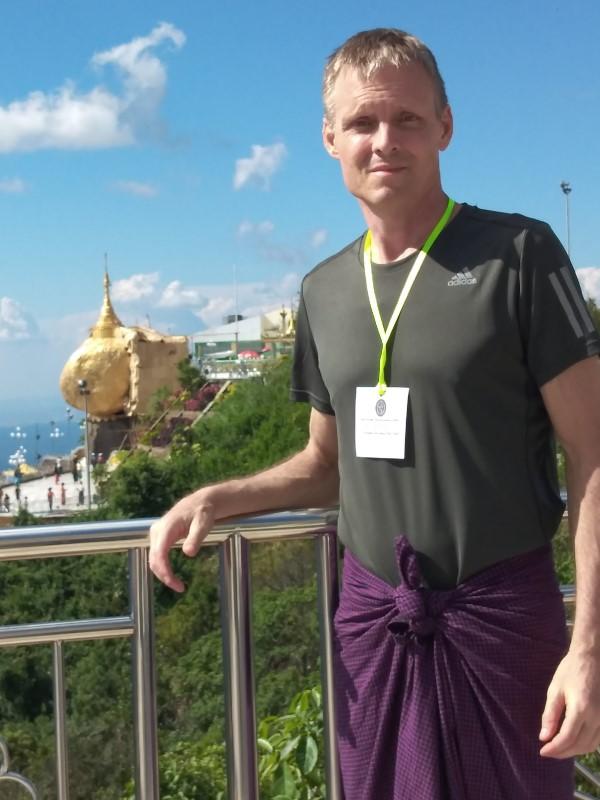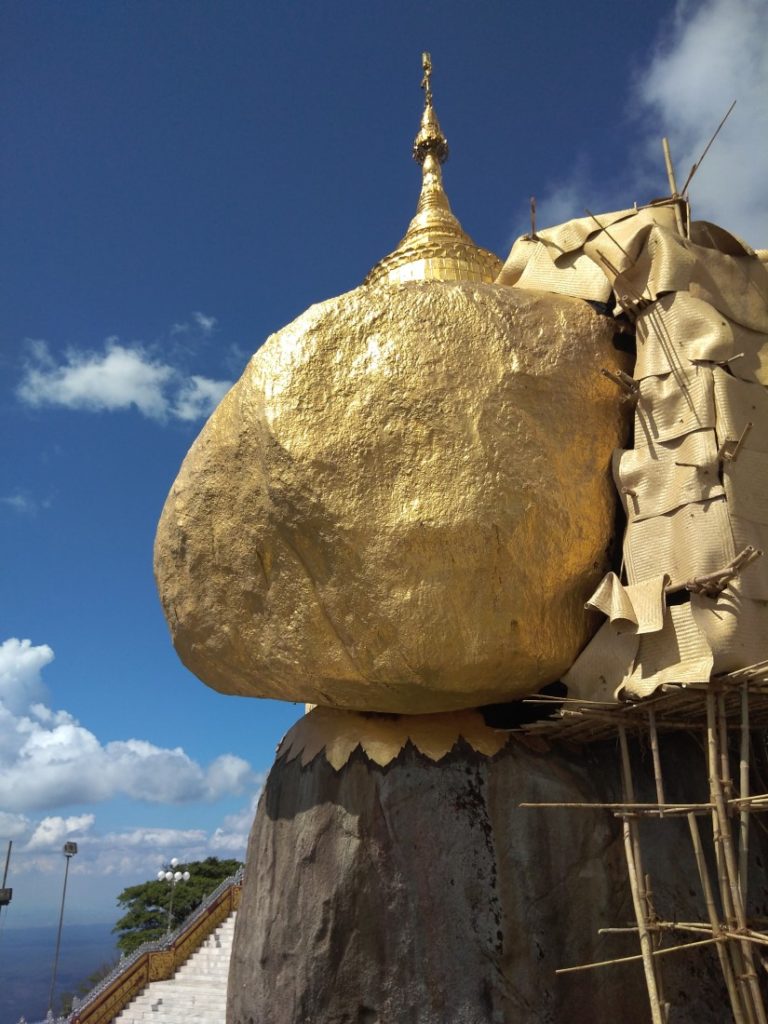 Golden Leaf for Kyaiktiyo Golden Rock
The spectacle of Kyaiktiyo Golden Rock is created because of the many, many applications of gold leaf which have been applied to the rock surface over so many years. Indeed, the gold leaf is real 24K gold and Buddhists can buy a pack of it there for about 2500 Kyat.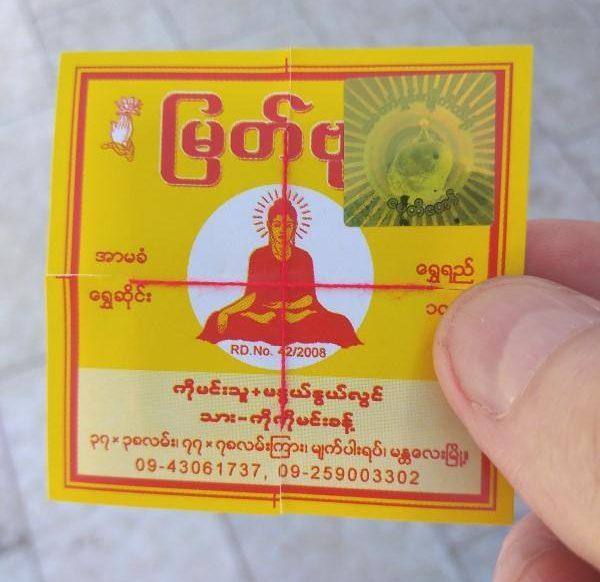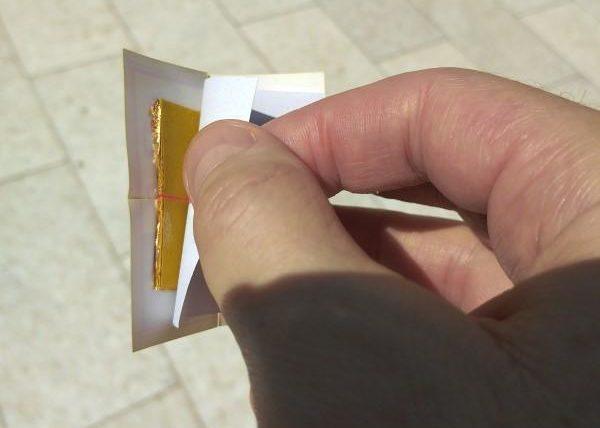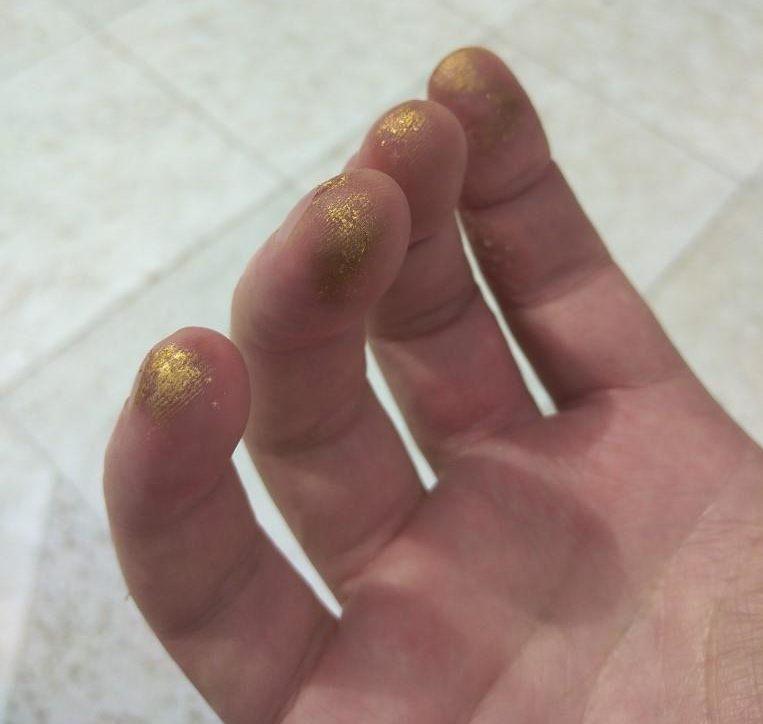 It is believed that applying 24K gold leaf to temples and Buddha statues brings good karma (merit) to the donor. However, feminists will be enraged to learn they cannot approach the golden rock. Indeed, only men are allowed to enter the restricted area.
Return to Kinpun
The Kyaiktiyo Golden Rock hike was an amazing adventure, but it was not over yet. It was now time for the truck ride down the mountain to Kinpun. Visitors should be prepared for potentially long lines and some jostling to get on board the modified dump trucks. Additionally, it may be a wise move to sit toward the front if possible.
There is also a Golden Rock cable car which sounded pretty enticing at first. However, it only goes partway down the mountain. So either way, you will eventually be in the back of the truck with the rest of us. After my return to Kinpun, I would be working my way north to attend the Taunggyi Fire Balloon Festival.