The Bolaven Plateau is a geographical phenomenon situated in southern Laos between Pakse and the Vietnam border. Additionally, the Bolaven Plateau landscape reveals magnificent waterfalls, mountain villages, flora and fauna.
We decided that a Bolaven Plateau motorbike tour would be the best way to connect with the local villages and enjoy the scenic splendors. Therefore, we planned our tour to visit Paksong, Attapeu and Tad lo while traveling by motorbike.
We procured a motorbike rental in Pakse and we set out on a 3 night 4 day tour of the the Bolaven Plateau. This would be the most enjoyable and rewarding segment of our 2 month visit to Laos.
The Amazing Bolaven Plateau Landscape
The Bolaven Plateau landscape displays some pretty extreme contrasts. This is mostly because large areas of Vietnam, Cambodia and Laos were carpet bombed repeatedly by the US military during the Vietnam War.
On the Bolaven Plateau, this devastation is heavily concentrated in Attapeu Province due to its close proximity to the Ho Chi Minh Trail. Unfortunately, this area still has not recovered and the landscape is mostly wiped out.
However, the western section of the Bolaven Plateau remains mostly intact. Fortunately, the natural wonders such as the waterfalls and pristine jungle in the vicinity of Paksong and Tad lo can still be enjoyed.
Furthermore, agriculture is still possible and the fragile economy benefits from local coffee production. Indeed, the Bolaven Plateau coffee is some of the best in the world and we certainly enjoyed our share of it.
First Stop Paksong, Laos
On day one of our Bolaven Plateau motorbike tour we drove from Pakse to Paksong where we would spend the night before continuing on. Paksong is well known for its coffee exports and there are a few local cafes where you can sample a few cups. However, the most spectacular aspect of the Paksong are the waterfalls and the lush jungle landscape.
The Majestic Tad Fane Waterfall
Paksong is surrounded by pristine jungle and it is also the location of the stupendous Tad Fane waterfalls. Tad Fane is one of the most spectacular twin waterfalls in the world. The twin falls emerge from the jungle and plunge over 120 meters into the valley below. Truly spectacular!
Tad Gneuang Waterfall
In this area of the Bolaven Plateau there is another beautiful waterfall named Tad Gneuang. However, at Tad Gneuang it is possible to descend to the base of the falls for some photos. This is an added feature that sets it apart from the Tad Fane experience. Simply follow the trail into the valley below for a spectacular hike with a very scenic conclusion.
Animism on the Bolaven Plateau
The villagers of the Bolaven Plateau mostly practice animism in contrast with the rest of Laos which is predominantly Buddhist.
Generally speaking, in Animism there is no boundary between the spirit world and the physical world. In animism, all things have souls including, rocks, humans, animals, water, wind and even certain words.
It is easy to envision how the villagers of the Bolaven Plateau could develop a belief that their waterfalls have spirits.
The Elephants on the Bolaven Plateau
Tad Lo is the name of another waterfall on the Bolaven Plateau. We stayed at the Tad Lo Lodge which is located on the banks of the river.
This place was spectacular because of several waterfalls in the area and also the resident elephants. We got to enjoy the elephants first hand because they would congregate every morning in front of our Tad lo hotel.
Exploring the Tad Lo Waterfalls
From our lodge I could see that there was another waterfall a few hundred meters upstream. After hanging out with the elephants we took out the motorbike to do some exploring. Our first stop was this waterfall.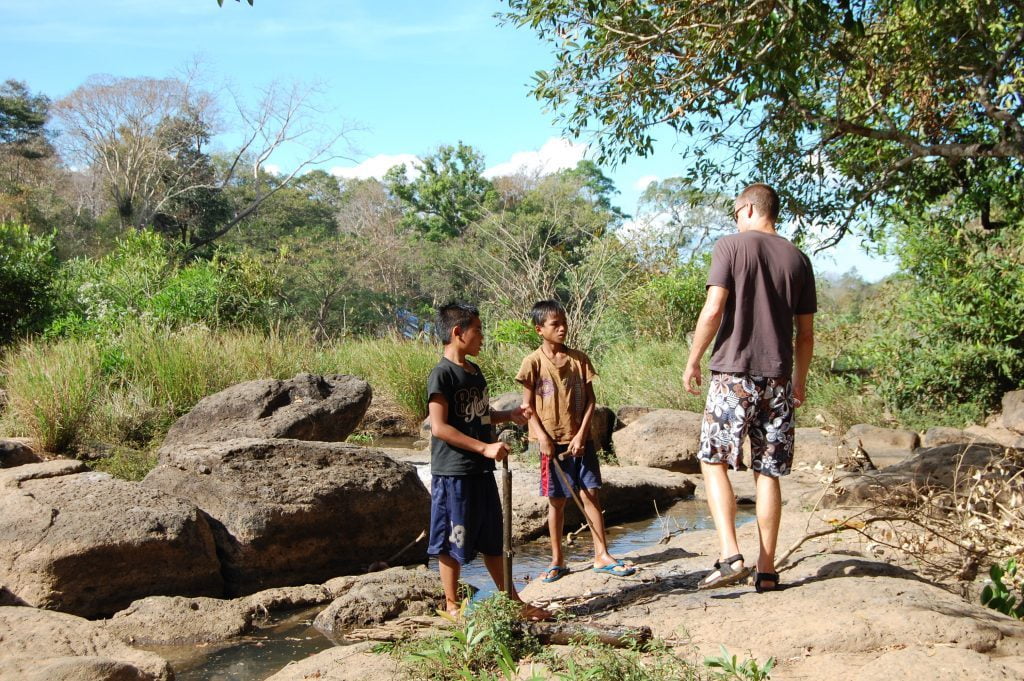 Follow Your Instincts on the Bolaven Plateau
As a general rule, I never refer to guide books unless it is absolutely necessary. Simply stated, if you use those guide books what you are most likely to encounter is something boring with a bunch of Australians drooling all over it.
Most of the stuff we did was by chance and it was not planned out. Case in point would be the encounter with the elephants referenced above, we had no idea they stayed at the lodge. Apparently no one else did either because we were the only ones there.
In fact, we didn't even travel with a map or make any reservations before we left Pakse. We just felt our way around.
What happened next was also completely unplanned, we encountered this village totally by chance.

Tad Suong Village Adventure
We discovered a small village while we were driving around. As soon as we pulled in we were introduced to this local gentleman who would be our guide for the afternoon.
Our new guide didn't speak any English but he was very convincing and therefore we trusted him. This would turn out to be a very rewarding afternoon adventure.
We hung out in the village for a while and took a few photos. However, the village is very small and it didn't take long to see the sights.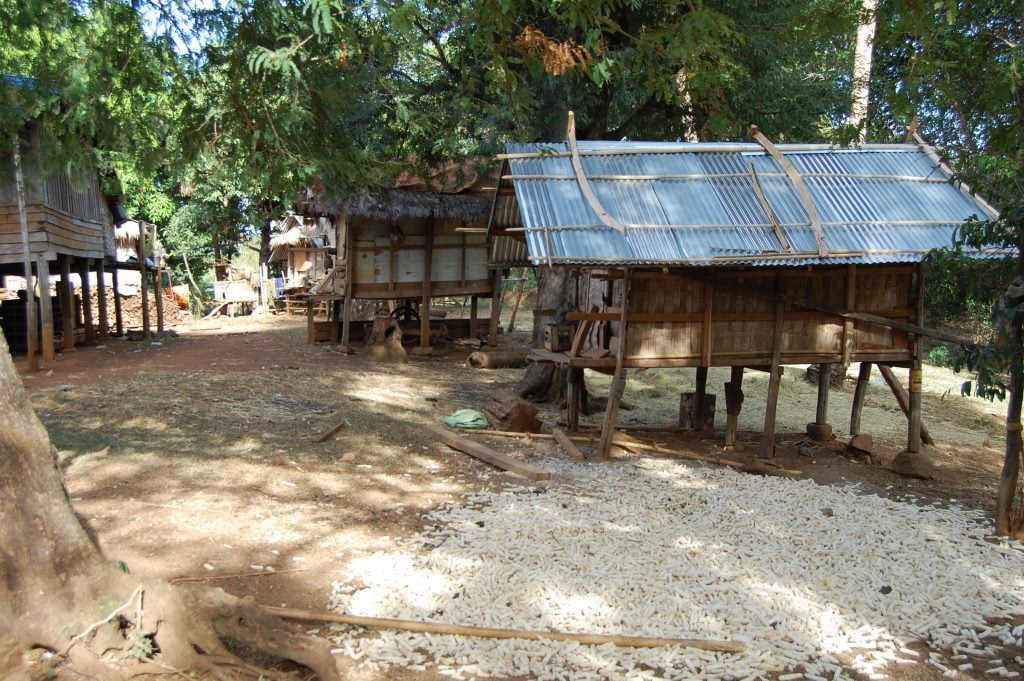 Discovery of Tad Suong Waterfall
This day adventure to Tad Suong would be the highlight of our 4 days on the Bolaven Plateau. Most extraordinary, is the fact that this encounter was completely by chance.
Fortunately, our local guide did not speak any English so our destination was still a secret at this point. As a result, our final destination would be a complete surprise. Nonetheless, he knew exactly what we had come to see.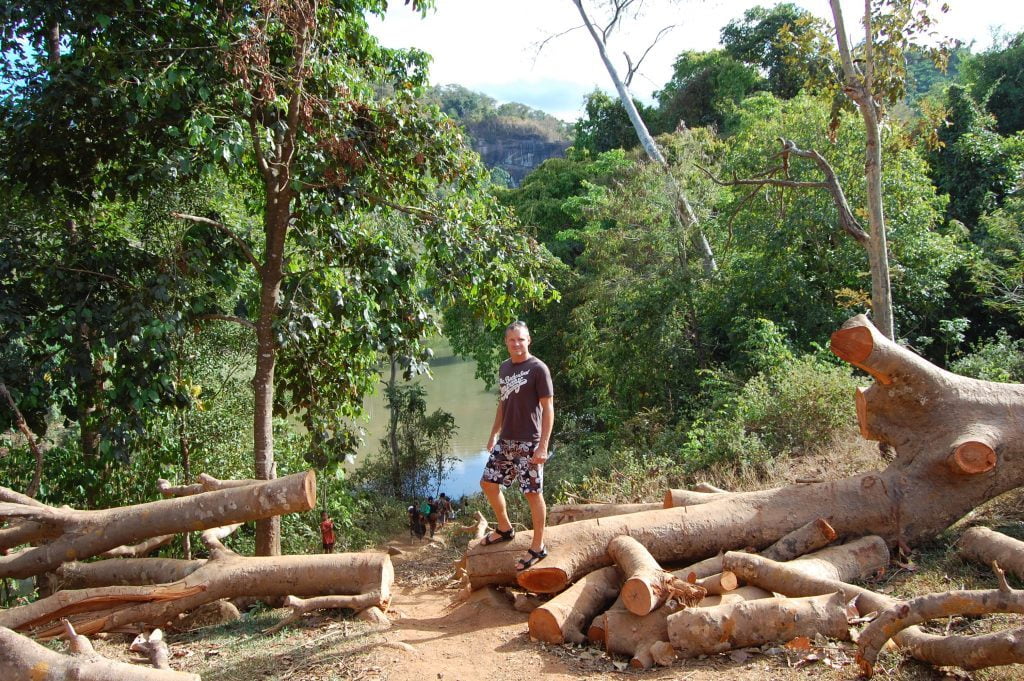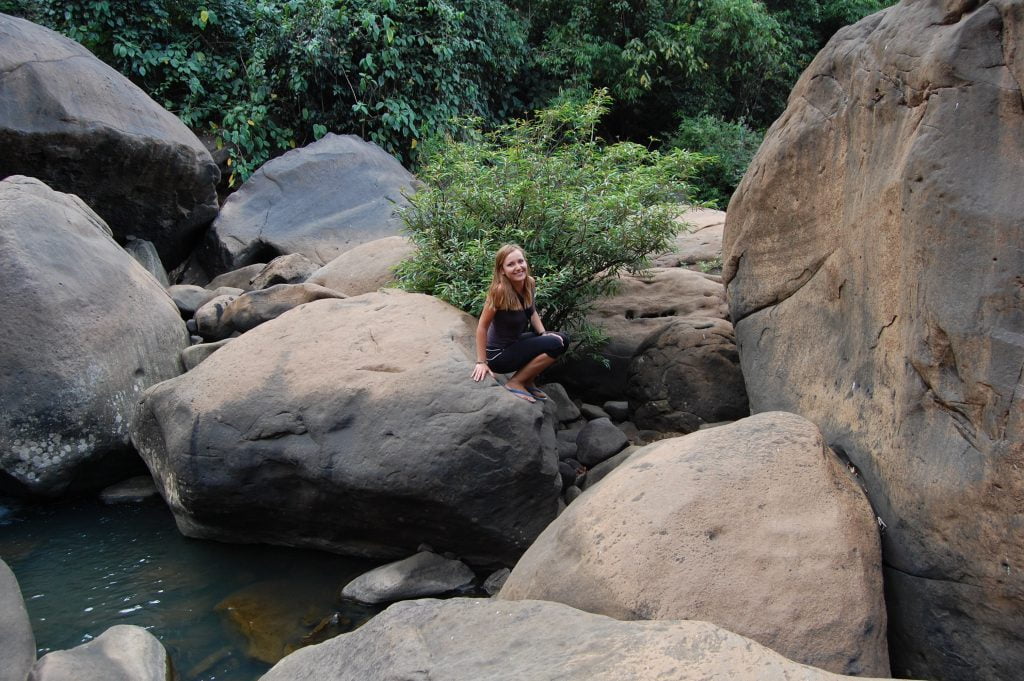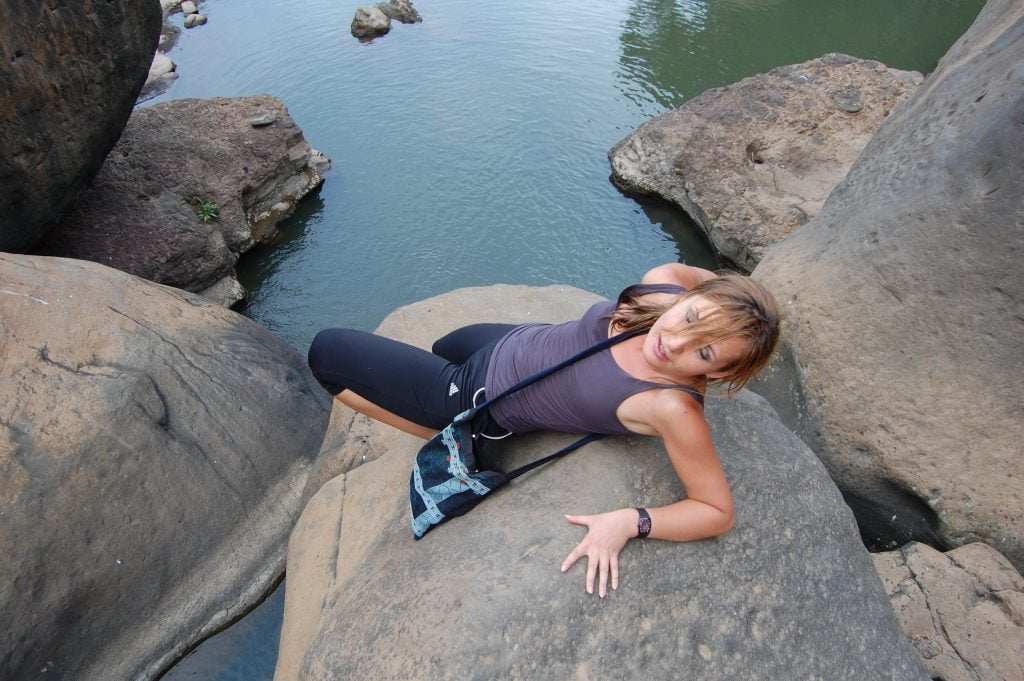 Lapp Chicken in Tad lo
They serve some great lapp chicken at the Tad Lo Lodge and we had that for dinner. I made it a point to avoid the backpacker food joints in town. The Tad Lo Lodge is a perfect alternative and I was fortunate to come across it.
The Best Cafe on the Bolaven Plateau
My female friend had made a couple acquaintances whom she insisted that we visit on the way to Attapeu. This was a great idea and we stopped off there for a chat and some coffee.
This small cafe is run by an Austrian ex pat and his lovely Thai wife. We enjoyed some local coffee and I also bought some locally grown coffee beans, a grinder and coffee plunger from them. This equipment would serve us well for the next several months.
Unfortunately, the coffee plunger was tragically broken when we were in Sri Lanka.
Attapeu Province from Bolaven Plateau
The reason I wanted to go to Attapeu was to observe the Ho Chi Minh trail. Portions of the trail do still exist, although I was unable to find them because of some navigational oversights.
However, I am certain that we must have crossed over it at some point because we nearly drove to the Vietnam border in search of it.
As mentioned earlier, this portion of the Bolaven Plateau is nothing like its western counterpart that we had just visited. It is very dusty, windy and overall a more arid landscape.
Possibly because of natural factors? But we must take into consideration the fact that this entire area was flattened repeatedly by US blanket bombing over a period of several years. Unfortunately, it has still not recovered.
Enjoy the Best of the Bolaven Plateau
A Bolaven Plateau motorbike tour is one of the world's best adventures. Attapeu Province notwithstanding, it is an opportunity to see Laos in its natural state, both culturally and geographically. We were now going to return to Pakse and we would soon set out to visit Si Phan Don.