Many years ago, large numbers of Hokkien Chinese immigrated to George Town, Penang. As a result, in George Town, Hokkien holiday celebrations such as Pai Ti Kong are the center of attention on the 9th day of the Chinese New Year.
Annually starting at 11PM the Hokkiens gather at Chew Jetty on Pengkalan Weld and pray to the Jade Emperor. However, this form of praying involves offering fires and gratuitous fireworks that light up the night. The festival is a primary component of Spring festival celebrations in Penang and is an attraction well worth seeing.
History of Pai Ti Kong
The Jade Emperor is also known as the "God of Heaven" and is included in the Daoist Pantheon. Indeed, the Jade Emperor's birthday falls on the 9th day of the Chinese New Year (CNY).
On this day in ancient China the Hokkiens were under attack by Mongol invaders. In order to avert a massacre, the Hokkiens hid in a sugarcane field on the 8th and 9th day of CNY. As a result, the massacre was averted and Hokkiens are eternally grateful to the Jade Emperor! Every year the Pai Ti Kong festival is celebrated by Hokkien communities worldwide.
Jade Emperor's Table at Pai Ti Kong
Annually at Chew Jetty the Hokkien community sets a huge table loaded with traditional delicacies for the Jade Emperor. The emperor sits at one end of the table and at the other end is where Hokkiens gather to pray to the the God of Heaven. This includes the Penang Chief Minister who attends the festival every year.
Kim Cua Offering Fires, Incense & Fireworks
Pai Ti Kong festival celebrations include setting offering fires ablaze in honor of the God of Heaven. These offering fires consist of large piles of folded pieces of gold paper known as kim cua. As a symbolic gesture of thanks to the Jade Emperor, the kim cua are first tied to stalks of sugar cane where they hang in tribute. Then on the night of the festival they are taken down and placed in large piles to be set ablaze.
Furthermore, sugarcane is highly symbolic during the festival because it served as the hiding place for the Hokkiens during the invasion. Additionally, the Hokkien word for sugarcane is a homonym for thank you in Hokkien dialect. After the kim cua is set ablaze, then 2 stalks of sugarcane are also added to the fire.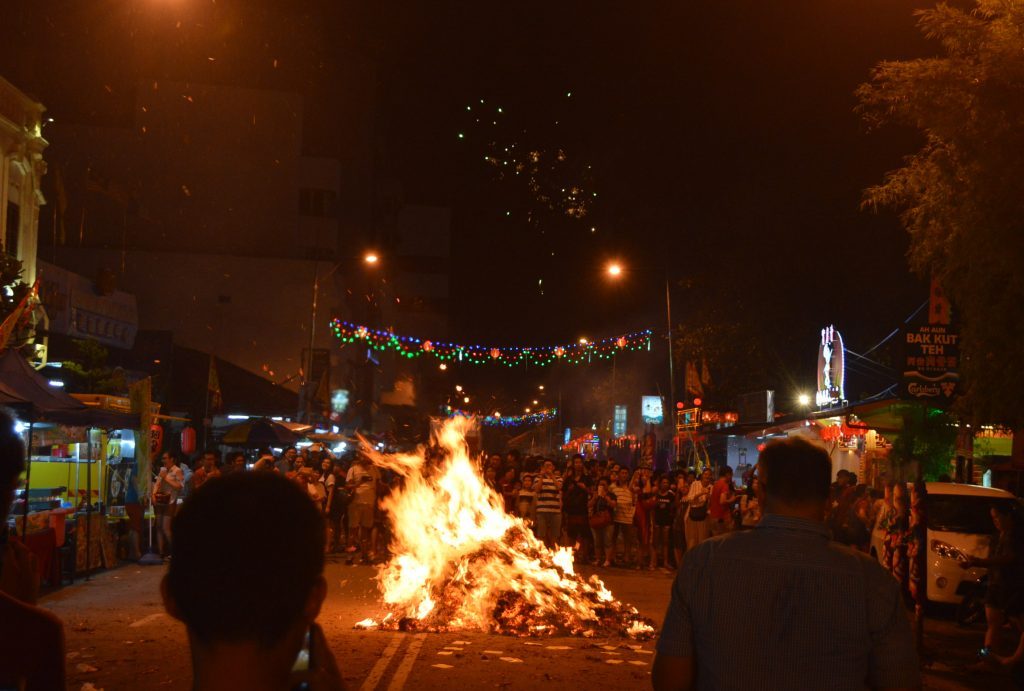 Giant sticks of incense also burn throughout the night in honor of the Hokkien God of Heaven's birthday. Additionally, gratuitous fireworks displays were going off all night long.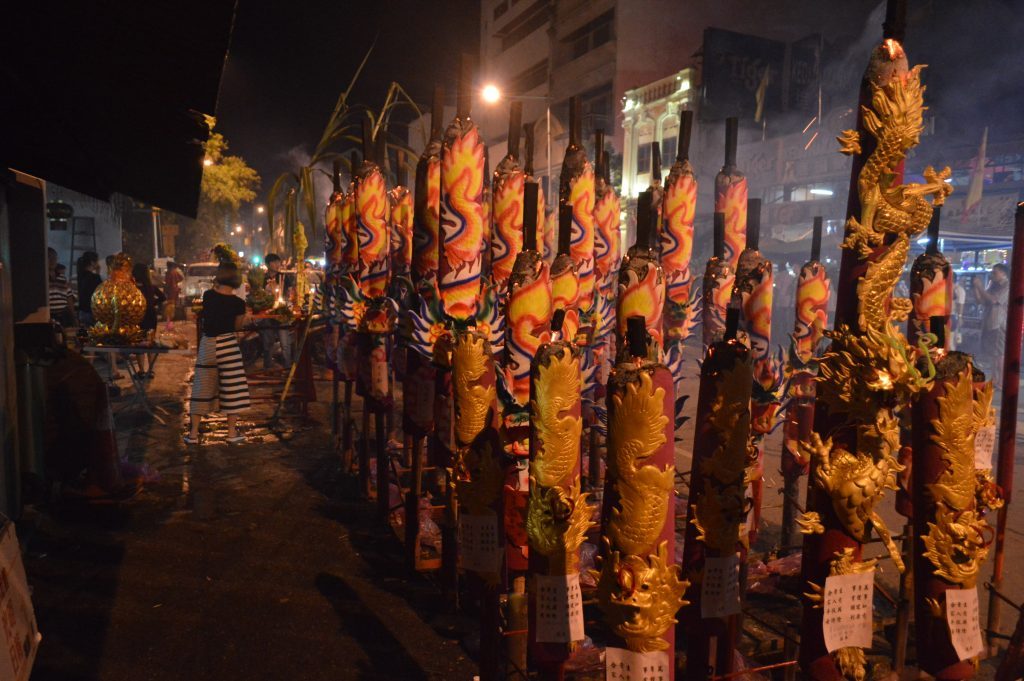 Chew Jetty in George Town, Penang
The Chew Jetty is open to visitors throughout the celebration. Therefore, the shops are also open offering ice cream and souvenirs. Additionally, the end of the jetty is a good place to find a bit of peace and quiet during the best Penang festivals. The night view of Penang harbor is very serene during CNY.