Invest in Six Senses, La Sagesse to get Grenada Citizenship
Six Senses La Sagesse, Grenada combines the best real estate developer in the Eastern Caribbean with world renown luxury hotel brand Six Senses. But you get much more with an investment into Six Senses, Grenada. Indeed, it should come as no surprise that the property is an approved real estate project under the world renown Grenada Citizenship by investment program.
Therefore, an investment in Six Senses La Sagesse, Grenada will allow you to qualify for lifetime Grenada citizenship. As a result, you are allowed to receive all of the Grenada citizenship benefits. Not to mention, easy access to a legitimate Caribbean tax haven.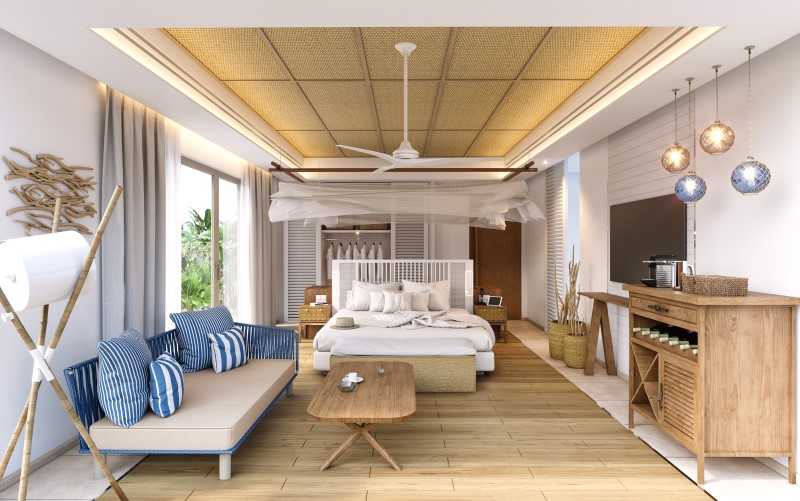 ~ First Come, First Serve. ~
How Good Is The Six Senses Luxury Brand?
Travel + Leisure Group once again named Six Senses at the top in their 2021 World's Best Awards. This future 5 star eco-resort will also be located at La Sagesse Beach, in the pristine SE portion of Grenada. So the natural surroundings compliment the Six Senses wellness experience and immerse visitors into the local Caribbean lifestyle.

Developer of Six Senses La Sagesse, Grenada
As an approved real estate project in the Grenada citizenship by investment program, the hotel will be imbued with the highest of standards. For references, the developer has already completed two award winning CBI approved real estate projects in the Eastern Caribbean. In addition to their 5 star Dominica hotel they also have one completed 5 star luxury project in St Kitts and Nevis.
Similar to the Six Senses, Grenada business model, these established projects have world renown branding. But the projects are also already sold out and open for business.
~ 90% Profit Sharing ~
Furthermore, when you invest in Six Senses, Grenada you can participate in the hotel's 90% profit sharing program. As a result earn a tax free 3-4% investment yield during the five year holding period.
At the end of the holding period, sell the investment to recoup your capital while retaining Grenada citizenship in perpetuity. What have you got to lose? 

Six Senses La Sagesse, Grenada is slated for completion in the second half of 2023. Rest assured that this project will soon join its peers to become a win~win Caribbean luxury destination. 

Grenada Citizenship Benefits List
A $220,000 investment in Six Senses La Sagesse, Grenada is a qualified purchase under the Grenada citizenship by investment program. Therefore, successful applicants will enjoy all Grenada citizenship benefits listed below, plus much more.

Visa Free Travel – Enter over 144 countries and territories visa free or with visa on arrival. This includes China, Russia, Brazil, the UK and Ireland in addition to the entire Schengen area.
3-4% Investment Yield – As an investor in Six Senses, Grenada you are eligible to participate in the developer's 90% net profit sharing program.

US E2 Visa – Citizenship in an E2 Treaty country such as Grenada includes eligibility for the US E2 visa. You therefore have the opportunity to live and work inside the United States.

Confidentiality – There is no requirement to notify your country of origin during the Grenada citizenship application process.
All Nationalities – The Grenada citizenship program has no restrictions regarding your nationality. So if you are qualified, you are welcome to participate. 

Family Program – Grenada has one of the most generous citizenship programs for families. As a result, your grandparents, parents, siblings and adopted children can be included as dependents. In addition, c

itizenship is hereditary.

Member Benefits – Grenada is a member of CARICOM and OECS, plus the British Commonwealth.

No Minimum Residency – There is no requirement to reside in Grenada unless it is your wish to do so.

Return of Capital – Sell the investment in five years while retaining citizenship in perpetuity.
Dual citizenship – Retain your original citizenship with no renunciation requirement.
Tax Haven Benefits – No tax on international income, no inheritance tax and no wealth tax.
Grenada Real Estate Trust Ownership
Ownership of Six Senses La Sagesse, Grenada is structured through a limited partnership and real estate trust. Therefore, trust ownership permits investment through share registration instead of freehold land title. So this means that the investor's identity is not recorded in the Grenada Land Registry. You benefit because your privacy is paramount.
To be fair, freehold property ownership does have certain benefits. However, citizenship by investment properties at the $220,000 price point exclude traditional perks. As a result, owners cannot use the property year round. In addition, you unable to enjoy exclusive access or mortgage the entire unit.
So you see, the traditional benefits of freehold land title are not applicable in this situation. On the other hand, share ownership through the trust structure is well suited for citizenship by investment.

Residency Options at Six Senses La Sagesse, Grenada
Limited CBI options exist in the Caribbean to invest in property for residential use. However, Six Senses La Sagesse, Grenada does provide this rare opportunity. As a result, by increasing your financial commitment investors can also call the investment property home.
Each residence is 3-4 bedrooms, features 2000 sq meters of landscaped gardens and 540 sq meters of living area. But residents also enjoy the full services of the resort plus VIP status and benefits at all Six Senses properties worldwide.
In addition, the location is idyllically situated on a headland. Therefore, your home is effectively located on an island situated between the lagoon and the sparkling blue sea. Furthermore, each residence is also located in complete privacy. You can enjoy your 70 sq meter horizon edge pool with sun deck away from crowds and distractions.
Upon request, your purchase can include furniture package options. Last but not least, there is also a rental program for when you are not living there.
Contact me to get exclusivity at Six Senses Grenada in addition to lifetime Grenada citizenship.
Low Density at Six Senses La Sagesse, Grenada
The landscape at Six Senses, Grenada features only a 20% built up ratio. Therefore, this project is ideally suited for the new age of social distancing. As a result there will be lots of space in a world where social distancing has become highly desired.
For example, the development's 100 units are spread out over 28 acres, featuring 30 separate swimming pools. So it has a distinct pricing advantage over competitors with more traditional condensed building structures.

Not to mention, the Caribbean countries offering citizenship programs have fared better than most during the global pandemic. As a visitor to Grenada, you will indeed appreciate that the OECS members had the lowest infection rates in the entire Western hemisphere. Rest assured that Six Senses La Sagesse, Grenada is a safe environment with tropical attractions. This encourages visitors with the highest disposable incomes.

Indeed, Caribbean vacations are in demand once again. Therefore, tourism based Grenada real estate is an investment for the future. Investors in Six Senses La Sagesse, Grenada will have it all in addition to lifetime citizenship in the best Caribbean tax haven.

Itemized Cost Breakdown for Family of Four*
Item

Family of Four*

Cost of Share

US$220,000

Government Fees


US$50,000

Due Diligence Fees

US$10,000

($5,000 per person age 17 and over)

Application Fees

US$6,000

($1,500 per person)

Processing Fees

US$4,000 ($1,500 per person 17 years and older, $500 per person <17 years old)

Share Registration Fees

US$8,800

Legal Fees

US$5,000


Passport Fees

US$1,000 ($250 per person)

Oath of Allegiance

US$80 ($20 per person)

Total Cost

US$304,880
*Family of four is main applicant and up to three dependents. Dependents can include spouse or dependent children plus parents and grandparents.
Grenada Citizenship Requirements
In addition to a qualified investment in Six Senses La Sagesse, Grenada, applicants for the citizenship program must produce a valid police certificate. It is also required that source of funds used for the investment can be verified. The application forms must be correctly filled in and collected along with all of the supporting documents. Rest assured, we will walk you though the entire application process. 

Upon completion and thorough review by our legal team, these requirements will be submitted to the Grenada citizenship unit for approval along with proof of your required investment.

All Grenada citizenship applications will be processed according to standard AML/KYC protocol. As a result, your application will most certainly be successful. This is because any potential complications will be identified and alleviated from the outset. Therefore, your success is all but assured.

Application Process
Applicants submit their passports for identity verification and also KYC background analysis.

In addition, the reservation form is filled in with the applicant's personal details. Also, an invoice for initial payment (10% of the purchase price) is prepared and sent to the main applicant.

Upon receipt of initial payment, legal documents for the investment (signed and stamped by the seller) are sent to the buyer's designated address.

We provide all the application forms and a list of the required supporting documents. Additionally, our documentation team will assist with document collection for each and every applicant.


All the documents are collected and if everything is in order, the file is submitted to the Grenada citizenship unit.

From submission to approval it may take approximately 3 months if no query is raised during the due diligence process.

In case of any queries, the unit may request additional documents or information to be submitted.

Upon approval, we will issue a final invoice for the investment balance and government fees.

Once final payment is received, it would take 4-5 weeks for issuance of the certificate of naturalization and passport.
The country of Grenada welcomes the addition of a new citizen of exceptional means. Additionally, your investment improves tourism infrastructure on the island which creates local employment.
In return, you receive lifetime Grenada citizenship. This includes a new passport that provides you with global access and security in addition to some good karma. The Grenada citizenship by investment program is a win~win situation.