Jungle Bay Villa with Dominica Citizenship

Dominica's Jungle Bay Eco Villas resort development features 120 units created in harmony with the natural surroundings. It is indeed a rare opportunity. Therefore, time is of the essence to take advantage of deeded real estate ownership offering a secure investment on a small, beautiful island where limited land area is available.
In addition, Jungle Bay Dominica is an approved project backed by the Dominica citizenship program. As a result, your investment comes with a stable price environment disconnected from global market volatility.

World Renown Caribbean Yoga Retreat and Eco Resort

Established since 2005, Jungle Bay has over 15 years of profitable operation. Furthermore, over the years, Jungle Bay Dominica has nurtured a world class reputation featured in over 200 global publications including The Economist, Forbes and Conde Nast Traveler.
Coupled with Dominica's natural splendor, Jungle Bay offers the largest yoga facilities in the Caribbean designed to host both yoga and other wellness retreats. However, Jungle Bay is also a spectacular destination for individual healing and wellness activities such as (hiking, kayaking, snorkeling, cultural tours, etc.)
After their stay, guests remember well that Jungle Bay offered a healthy lifestyle including a restaurant with fresh & healthy island food, a health spa for massages, etc., as well as a Banana & Pineapple Plantation with lots of tropical trees & flowers, plus two swimming pools in addition to a hot tub overlooking the Caribbean Sea.

Jungle Bay Eco Villas will indeed remain well established as a favored destination for US and European travelers who enjoy harmony with nature. Not to mention, Jungle bay is an approved real estate development for the Dominica citizenship by investment program. As a result, an investment in Jungle Bay, Dominica is the best Plan B option for your financial security and global access.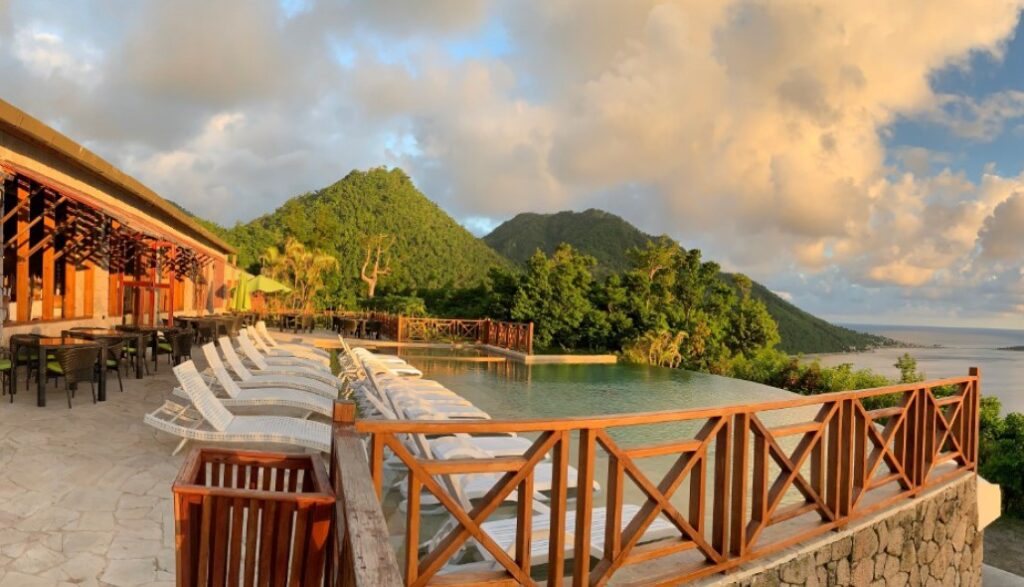 Get Freehold Land Title with Dominica Citizenship
As a government approved real estate project for the Dominica citizenship by investment program, Jungle Bay Eco Villas will allow the qualified applicant in addition to their dependents to receive Dominica citizenship upon successful completion of the application process.
But investors also have the option to sell the real estate after the holding period while retaining Dominica citizenship in perpetuity. However, long term investors can also choose to hold the property indefinitely as a yield producing asset.
Starting at US $255,000 (inclusive of transfer taxes, all closing costs, and deed registration), you as the investor will receive freehold ownership of a 1200 square foot lot and 400 sq foot villa.
In contrast with share ownership held within a real estate trust, Jungle Bay Eco Villas gives investors the opportunity to directly own deeded real estate in perpetuity. It is especially unique among other Caribbean real estate developments that are qualified under the citizenship program.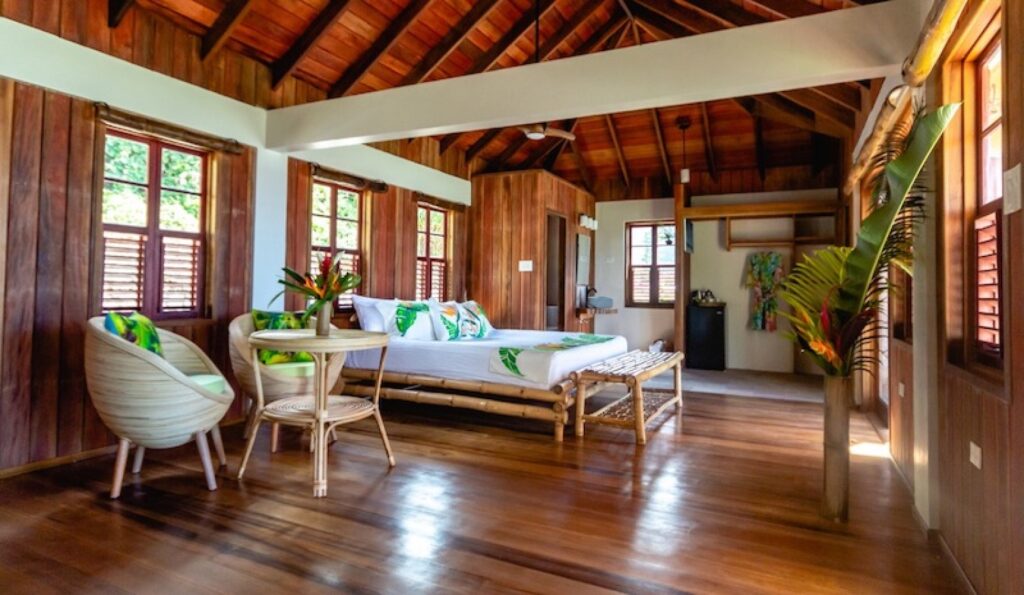 Enjoy Optimal Investment Yield at Jungle Bay Eco Villas, Dominica

In contrast with the government donation option that is non refundable, investors can sell the property after a three year holding period to a non citizenship applicant, or the five year holding period applies if you wish to sell to a new citizenship applicant.

Either way, you can recoup your investment funds after the holding period and still retain Dominica citizenship in perpetuity.
Jungle Bay also offers investors a generous split of rental income net of all maintenance, management and marketing expenses. Therefore, owners can show a 4-5% investment yield. In addition, owners have the option to stay at the resort rent free for 7 days per year.
~ 70/30 Profit Sharing Plan, Earn 4-5% Annual Yield. ~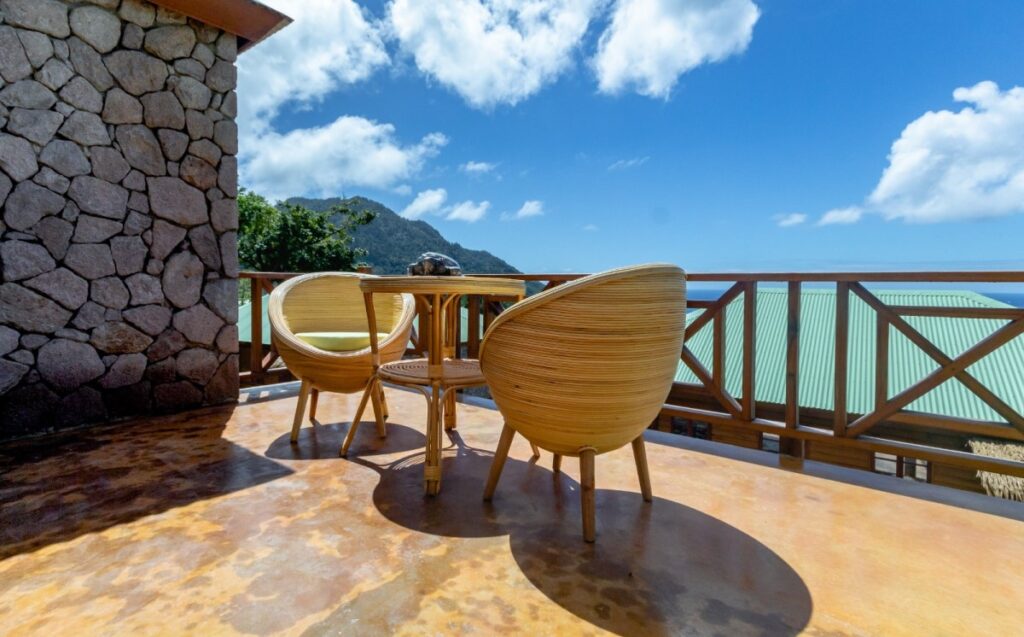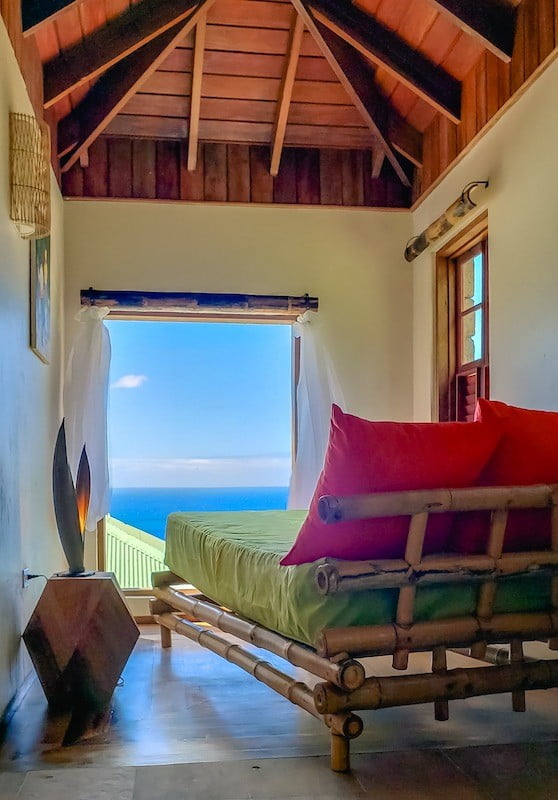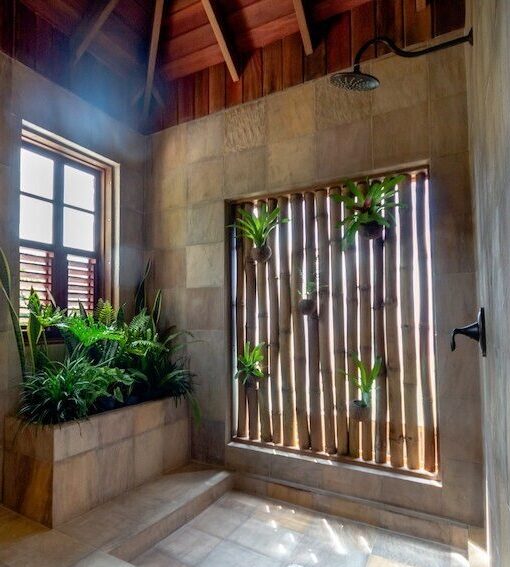 Low Density Design at Jungle Bay Eco Villas
Each villa provides its own separate living space. As a result, there are no hallways or crowded elevators for guests to contend with. Everyone will enjoy the fresh Caribbean Sea breeze and dramatic views in a COVID free environment.
Resort benefits also include the opportunity for guests to participate in Jungle Bay's popular sunrise yoga class with yoga instructor Nancy Atzenweiler.
Afterwards enjoy a morning walk to Scott's Head where the Atlantic Ocean meets the Caribbean Sea. After your walk, enjoy your breakfast at the pool terrace al fresco.
Dominica's Eco-Tourism Adventure Opportunities
Indeed, the mountainous interior of Dominica provides a multitude of hiking opportunities that bring you to towering waterfalls in addition to an exotic boiling lake. While hiking through the forest visitors will marvel at Dominica's 1,200 plant species and see Dominica's national bird, the endemic Sisserou Parrot.
However, the underwater environment of Dominica is equally spectacular. As a result, guests will also enjoy world class scuba diving off Dominica's dramatic coastline featuring huge underwater caverns and colorful coral reefs. There is also a resident population of sperm whales living off the coast and endangered sea turtles return annually to the shores of Dominica.
Dominica is assuredly a safe investment opportunity providing a unique ecotourism experience for tourists. Therefore, the island is justly rewarded by their established customer base from Europe and the US.
Benefits of Dominica Citizenship
After investing in Jungle Bay Eco Villas, successful citizenship applicants will be granted Dominica citizenship. Indeed, obtaining Dominica citizenship offers a lifetime of benefits to you and your children.
Each applicant obtains a politically neutral Dominica passport. When traveling abroad you will be safe from the prejudice and animosity that is associated with politically aggressive countries such as the United States. As a result, you will be greeted with a smile instead of apprehension.
In addition, Dominica citizens can feel safe to open bank accounts, enter business contracts and rental agreements using their new passport.

Dominica citizenship benefits also include:

The right to live and work in any CARICOM or OECS country.

Eligibility for the 10 year multiple entry US B1/B2 visa allows Dominica passport holders to enter the US for business or tourism up to 180 days at a time in any 12 month period.

Enter over 144 countries and territories visa free.


No requirement to ever visit the country or to ever reside there in order to qualify for or retain your Dominica citizenship.

English is the spoken language with no fluency requirements.

The legal system is based on English Common Law.

Dominica offers many tax advantages including no capital gains tax, no inheritance tax or gift tax. In addition, non residents are tax free for all of their international income.

Dominica is politically stable with strong local support for the citizenship program.

Open international bank accounts without FATCA or FBAR reporting requirements.

Dominica's new intercontinental airport will soon offer direct flights from Europe to compliment direct flights already coming from the US (currently three per week).

Dominica citizenship also allows you to obtain offshore tax benefits. As a result, you have the possibility of residing tax free in your country of choice.

Real Cost of Jungle Bay Eco-Villa
Jungle Bay Eco Villas is a sound investment that gives the investor the opportunity to significantly increase the value of their citizenship compared to the government donation option.
Indeed, the required investment amount is significantly less in real terms. This is especially true if the main applicant includes their family.
| | | | |
| --- | --- | --- | --- |
| Options | Single | Family of Four | Family of Six |
| Government Donation | $125,000 | $207,400 | $261,200 |
| With Jungle Bay Villa | $290,000 | $308,300 | $326,200 |
| Effective Cost of Villa | $165,000 | $100,900 | $65,000 |
*The price table above includes all government fees, real estate title registration and closing costs. Assumes all dependents under 16 years, siblings excluded.
Dominica Post Citizenship Services
My partners and I have 35+ years of experience working with the Caribbean citizenship by investment programs, especially Dominica. As a result, you can rest assured that we will provide you with a full service experience and optimal efficiency at the lowest possible cost. Indeed, your post citizenship experience is just as important as citizenship itself.
As an investor in Jungle Bay, Dominica you will acquire a Dominica street address. This address in addition to supporting documents is essential to creating a strong nexus with the island.
We will assist you to get a Dominica driver's license and tax identification number from the Dominica tax authority. Therefore, as a Dominica citizen you will have a very strong legal claim to Dominica tax residency.
Enjoy tax residency options worldwide in safe environments with no tax on international income sources. Additionally, successful applicants will enjoy lower living expenses and a higher quality of life compared to residence in your former country.
Contact me to learn all about Dominica tax residency benefits and the global access that Dominica citizenship will provide.